Facing a budget crunch, Cook County Board President Toni Preckwinkle is proposing a 1 percent hike to the county sales tax. She'll likely face a tough time finding the nine board member votes she needs to get the tax passed. Preckwinkle joins Chicago Tonight to talk about the budget.
---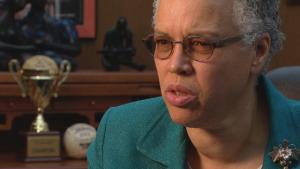 On Tuesday, Cook County Board President Toni Preckwinkle released a preliminary forecast of the county's fiscal year 2016 budget which begins December 1, 2015.
Cook County is projecting an operating shortfall of $198.75 million in fiscal year 2016 due to increases in costs of labor, rising legacy debt service, increased costs of the presidential election cycle, and reductions in court filing revenues.  
"It should come as no surprise that the county's largest expenditure is personnel. Roughly 80 percent of the County General Fund is personnel," Preckwinkle said. "We are the fourth largest employer in the state. For five years, I've talked about the responsibility and reform of Cook County government – they make it possible. But we also have to make sure we are living within our means. We continue to make strategic structural changes to make sure that our personnel costs are appropriate."
In addition to those costs, Preckwinkle said unfunded pension liabilities are pushing the county toward a financial crisis which is why she's proposing a 1 percent county sales tax.  
"This is particularly difficult for me – there is no person in Cook County more hesitant to increase the sales tax than me," she said. "But here's the truth: I'm here to do what is right for Cook County and what may become personally or politically awkward for me is irrelevant."
The proposed sales tax would go toward county pensions (nearly 90 percent of the funds from the tax would be dedicated to solving the county's pension crisis), legacy debt service payments, and establishing a long-term commitment to infrastructure. 
In 2010 Preckwinkle campaigned against the half-penny sales tax implemented by then-President Todd Stroger, but this time the proposed sales tax increase is different.
Watch Preckwinkle's 2010 campaign ad touting "a penny saved is a penny earned."
"When the sales tax was increased in 2008, it was used entirely to balance and grow daily operations, including funding health care benefits, supporting the hospital system, covering costs at the Juvenile Temporary Detention Center and replacing other declining revenues," she said. "I know there are those still wondering 'why this revenue source' and 'why right now.'"
The alternative to a sales tax increase—that would be capable of generating a large amount of revenue—was a property tax increase and that was ruled out. As for the timing of the proposed increase, Preckwinkle said she had to act because pension reform legislation in Springfield has stalled.
"We are acting today because Springfield didn't. After five years of demanding fiscal responsibility, two years working with our unions to devise a comprehensive reform plan, and many, many trips downstate, we can no longer wait for Springfield," she said. "In the absence of pension reform, the county will need an additional $270 million in funding… We literally can't afford to wait. For every month without pension reform, we fall behind another $30 million. If we wait another year, we also incur another $360 million in obligations."
If a pension reform measure were approved by the legislature, Preckwinkle said she'd take another look at the sales tax.
"I will make this commitment. If Springfield can pass our pension bill before the end of the summer, we will re-evaluate our revenue needs and make the appropriate changes to our sales tax levy in our September Board meeting," she said.
---
Watch Preckwinkle's speech before the City Club of Chicago on Tuesday.