On Wednesday, the Chicago Public School board holds its next meeting.
During the last meeting members tabled a vote on whether or not to allow a charter applicant, Noble Academy, to move from a temporary downtown location, to a soon-to-be vacated private school on the city's North Side.
But now the board won't be taking that vote at all. Noble Academy has pulled its application for that location, and is opting for another, in light of public backlash from surrounding high schools, local school counselors, and even aldermen.
The problem all underscores a contentious issue related to the city's charters: Where should they be?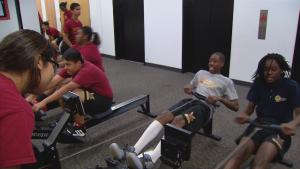 Over the last school year, this has been P.E. class for students at Noble Academy: rowing in the hallway outside the main office and warm-ups in the multi-purpose room.
"I think it's pretty small because we're in our cafeteria/auditorium and our gymnasium, and it's small, it's cramped," said Sammy Roman, a student at Noble Academy. "We don't have a lot of room to move around.
Sammy Roman and his classmates have just completed ninth grade and are heading to the tenth, but they're not quite sure where they're going.
"It was always a temporary space. They told us the cap of students was 200—we actually, we're close to that," said Lauren Boros, Noble Academy campus leader. "So with an incoming, new incoming freshman class, with these students becoming sophomores, there's simply no place to put them. The kids joke, 'Where are the freshmen going to go, on our laps?' So we need more space."
Currently, this campus of the Noble Charter Network is housed in a temporary space, in a downtown Chicago building.
The school opened with the plan to move to more permanent digs in the second year when a new class of freshmen arrive.
The network had hoped that new location would be Immaculata High School on the city's North Side near Wrigleyville.
Roman and his mother were thinking of moving nearby.
"I'm pretty sure we're going to be moving soon," Roman said. "Because it's all on the location of our new school, we're waiting on that, and hopefully, I might be moving somewhere near Irving Park."
But that plan has come to a screeching halt.
Before Noble withdrew plans to relocate to Immaculata, community members nearby had been vocal in their opposition: they don't want a charter school close by pulling on their enrollment and their resources.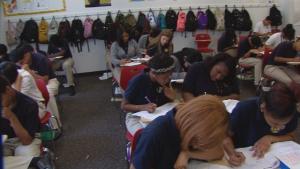 "This would be a diversion of resources. It would be a dilution of resources. If you think about budgets at CPS, there's not a separate budget for public, non-neighborhood schools [also known as] in this case charters," said Anna Pavichevich, principal of Amundsen High School. "The money all comes from the same pot. So what would be the benefit of taking a finite set of resources and expanding the number of available seats?"
Anna Pavichevich is the principal at Amundsen High School in the Bowmanville neighborhood. She says her school is on the right track—it's not underperforming and it isn't overcrowded.
She and 13 other high school principals and local school councils have signed letters, along with 13 elected officials representing several North Side neighborhoods all opposing Noble's move.
"The community is working with us to help us finish what we've started," Pavichevich said. "The parents held hands, and they fought together to create high-performing elementary schools, and now those parents want to do the same thing for neighborhood high schools."
Noble Academy is now considering another location. But the controversy underscores a bigger issue: Does Chicago Public Schools have a plan for placement of charter schools?
"You've just put your finger on the biggest problem we have. And that is, there's no coherent charter location strategy in the city," said Andrew Broy, president of the Illinois Network of Charter Schools. "The best cities in the country that do this work decide here's our population distribution, here's the school quality: We need to have a better math and science school here. Let's offer a charter application for that area."
Andrew Broy of the Illinois Charter School Network argues first that charters and neighborhood schools can exist in close proximity because parents choose different schools for different reasons.
But more than that, he says, charter schools are public schools, too.
"We need a long-term facilities plan," he said. "These students are just as deserving of public school space as any other student is in Chicago, and we shouldn't pit charter expansion against access for district-run buildings."
In this web extra video, Andrew Broy of the Illinois Charter School Network discusses national efforts to improve charter school quality and challenges with closing poorly performing charters.
The district currently has 130 charter schools, and when opening a new one, he says, the district should consider where they're needed and where a facility would exist for them.
The district promised not to allow new charters to replace the 50 neighborhood schools that were shuttered a couple of years ago. But Broy says, now many charters, like Noble Academy, have a hard time finding a home.
"I think it's a bit too ad-hoc right now," he said. "If we had a process where there was pre-approval for a site, if a site was pre-selected, if it was a district facility strategy for charters to co-locate or other things, we wouldn't have these sorts of eleventh hour decisions."
But charter school critics say the problem extends beyond real estate and is more about the district's disinvestment in some neighborhood schools.
"I'm just saying look at the existing data which clearly indicates that charters are not outperforming by and large neighborhood schools," said community organizer Jay Travis. "Look at the decline in enrollment, and let's press pause. Let's do a deep analysis of the effect of charter schools on the overall system before we move forward with the proliferation of charters."
But for now, proximity to a charter is not a problem for some of those neighborhood schools.
On Wednesday evening, the school board is expected to vote on a different location for Noble Academy.
The move--which would mean sharing space with another charter school--would also be temporary.