A new exhibit in Hyde Park shares its name with a building that has generated a lot of publicity, protest, and angst over the last several months: The Barack Obama Presidential Library. But unlike the officially curated and managed home of the future former president's legacy, the Barack Obama Presidential Library housed at The Hyde Park Free Theater describes itself as "a community museum of, for, and by the people." Everyone is free to contribute an artifact to the museum along with a written explanation of how it relates to President Obama's story. We learn more about the project from the people behind it: University of Illinois art professor Jorge Lucero and Laura Shaeffer, director of the Hyde Park Free Theater. 
---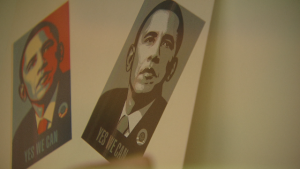 The question of whether Chicago would land the Obama library and the ongoing debate over where in the city it should be located have been a source of angst and focus of conversation for months on end. But that's all over, now that the library is open.
Well, one of them anyway. On a busy 57th Street sidewalk, it's easy to walk past The Barack Obama Presidential Library and not notice it. This Obama library is an art exhibit at the recently-opened Hyde Park Free Theater. When people stop in to ask what it's all about, curator Jorge Lucero says: "The first thing I tell them is, we made the presidential library. And then they laugh, and we say, no, we made a people's version of the presidential library."
Hyde Park Free Theater director Laura Shaeffer says the idea for the show came from a conversation she had with Lucero before Chicago was picked as the location for the Obama Library.
"And, jokingly, Jorge just said, 'Well, why don't we just open it up right here?'" Shaeffer said. "We all laughed, because it was a cheeky idea. But then we all just stopped, and we thought, yeah, that's a great idea! The silence afterwards led us to understand that we were really onto something."
Since its opening, the theater has hosted everything from break dancing to bookbinding, and the ethos of Lucero's idea for the exhibit spoke to Shaeffer's intentions for the space. 
"I wanted to see the bridge between art, education, and community come together," Shaeffer said.
Lucero, an artist and art education professor at the University of Illinois, says the exhibit's meant to provoke thought about the 44th president, right down to its deliberately jarring title.
"If you see Fred Armisen imitating the president, he's not going to call himself Fred Armisen imitating the president. He's going to call himself the president," Lucero said.
So, by avoiding any hint of a wink in the title, Lucero hopes to throw people off-balance at first -- and by doing so, provoke deeper thought than by giving them what they expected.
"When you see something and you expect it to be something and it's not that thing, there's some contemplation that happens," Lucero said. "That's what we're trying to provoke."
This community museum, as Lucero calls it, is made up of submissions from artists, neighbors, teachers, and students.
"We had people who contributed based on memories that they had about the election, we had people who contributed based on where they stand politically and how they feel about the president's governance, and we also had people who feel some type of draw to him as somebody who identifies as a Chicagoan," he said.
Lucero's role in the show was to find the right home for every piece. Up front, there's a map showing locations in Hyde Park significant to the first couple, including a marker at the site of their first kiss. Right next to it, cardboard engraved with tweeted threats against the president's life.
"You can see this all over the show, there are these types of works, where you're seeing something that's very tender, very sweet, and then you're seeing something that has an incredible amount of volatility in it."
There's also a nod to the controversy over the location for that other Obama Library: photographs of buildings bought up for one of the project's potential sites.
"And as you can see, they're already in various states of demolition. I think they kind of speak for themselves in terms of their poignancy," Lucero said. "This project becomes much more interesting because of these strange pairings, because of the way that things come together in a way that perhaps is not very linear, it's more web-like."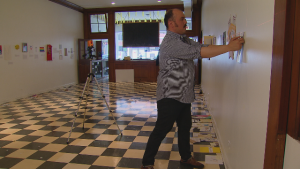 It's also more personal than your average museum. Every educational placard has an author listed, recognizing and even celebrating the subjectivity of the submissions.
"When you go to a museum, you're going to read a label and you don't really know where that authoritative voice is coming from. Here, on the other hand, we wanted to inject these stories with the subjectivity that belongs to them," Lucero said.
Engaging the public in a variety of ways is important for both Lucero and Shaeffer. The idea for the Hyde Park Free Theater was inspired, in part, by Shaeffer's having lived in Berlin for some 13 years.
"I think that set me up for the desire to see unexpected things everywhere, in the arts. Walking down the street, you would see small arts spaces opening up everywhere and they were very cryptic and interesting, but you always felt welcome to go in there and find out what they were doing," Shaeffer said.
And that welcome feeling was a big part of the storefront now occupied by the theater. When Shaeffer first moved to Hyde Park, it was a jam-packed and curiosity-filled antiquarian bookstore.
"It had that invitation to come in and linger and look and think, versus some shops that are more commercial, where the circulation is faster, there's an expectation to come in, buy, and get out," Shaeffer said.
Shaeffer wants people to feel just as welcome to come into the theater and spend time with this iteration of the Obama library.
"I'm hoping that people will stop and think about what the last seven years have been about and who writes history and how can we be more a part of that writing of history," she said.
And the history, at least in this space, will continue to grow. Lucero is accepting submissions through the end of the summer.
"We know that people are going to come in and they're going to say, 'There's a gap here.' And we want to give a space for people to be able to contribute beyond what we've collated here," he said. "In no way are we saying that this is a closed narrative. We feel that this is an open narrative, and we're just presenting one sliver of it. And we feel that people can continue to contribute to it."
The Barack Obama Presidential Library runs through August 31 at the Hyde Park Free Theater.