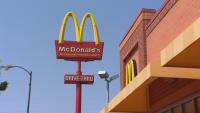 Demonstrators in Chicago and around the United States are protesting Wednesday for a $15-an-hour minimum wage. Organizers said workers in other countries would also rally, claiming it's the largest-ever international demonstration by workers.
In Chicago, workers rallied at a McDonald's in Auburn-Gresham early Wednesday morning. Organizers expect 10,000 people to gather at a rally Wednesday afternoon on the campus of the University of Illinois at Chicago.
Fast food restaurants, in particular McDonald's, have been a major focus of the union-backed "Fight For $15" campaign. McDonald's recently announced it would raise starting pay for workers at company-owned locations to $1 above the local minimum wage, but that move appears to have done little to placate employees seeking better money and union representation.
Wednesday's rallies were said to include not only fast food employees, but also retail workers, cab drivers, and others making low wages.