Although Amsterdam beats Chicago when it comes to the sheer number of bridges, the Second City is known as the drawbridge capital of the world because no other city has experimented with as many drawbridge designs as Chicago.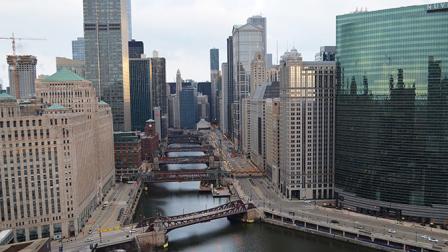 Bridges spanning the Chicago River; credit: Patrick McBriarty
After the trial and error period of several bridge types, the city settled on the Chicago-style bascule bridge, a drawbridge that uses a trunnion to lift the bridge's leaf or leaves by counterbalance.
The bridges spanning the Chicago River have been key to the city's development. They assisted in expansion that began south and moved north to today's commercial downtown district. These bridges connected the city's diverse mix of people, neighborhoods and cultures. In 1830, the Chicago area had 4,000 residents; by 1857, its population grew to 90,000. The city had become a hub for transportation and industry by the mid-19th century and Chicago's river bridges played a large role in that.
The apex of drawbridge innovation and construction occurred in the 1870s and returned in the first decade of the 20th century with the city's employment of the bascule bridge design.
While the Chicago River is less of a thoroughfare for economy than it was over a century ago, the city's existing drawbridges are still opened in the spring and fall. These vast yet elegant structures are enduring symbols of Chicago's historical and architectural achievements.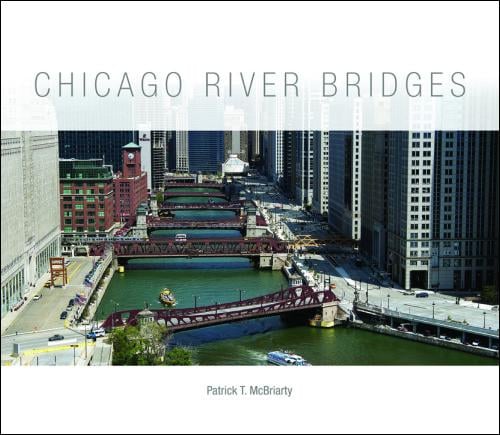 Joining us to talk about the history of Chicago's river bridges and how they defined a Midwestern metropolis is Patrick McBriarty, a businessman-turned-bridge aficionado. McBriarty is the author of Chicago River Bridges, a book which chronicles the history of the city's bridges and the engineering innovations acquired along the way. Over 175 of the bridges spanning over the Chicago River are documented in photos, diagrams, and historical information.
View a timeline detailing Chicago's bridge history.
---