Lyric Opera of Chicago launches its new production of Rodgers and Hammerstein's iconic American musical, Carousel. Cast members Jenn Gambatese and Matthew Hydzik stop by for a conversation and perform selections from the musical with piano accompaniment.
Watch the duo perform "In a Manner of Speaking."
---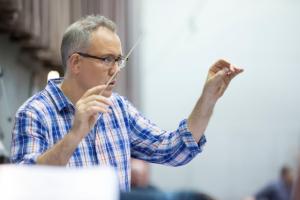 Read an interview with conductor David Chase.
You're a veteran of the Broadway world. But this is your first time conducting at Lyric Opera. What's different and what's the same?
The opera house has a huge open pit. Therefore, the orchestra is heard acoustically. On Broadway, both orchestras and casts have gotten smaller. Back in the day, when Carousel was first played on Broadway, the orchestra was bigger than even Lyric's production: 39 pieces. Even in its time, Carousel was a bit of an anomaly. A standard Broadway orchestra was 24 to 28 pieces. That's in part why Rodgers and Hammerstein became producers on their own show, because they really emphasized the musical values of production. Since then, musical tastes have changed, and so Broadway shows have tried to capture a pop sound.
So boy, it's great to have a big full orchestra. At 37 pieces, it's a small orchestra from an opera standpoint. I'm not used to be being called maestro. On Broadway, we call each other maestro somewhat jokingly, as tongue-in-cheek or a mock-pretentious thing. So it's taken me a while to get to that and respond without smiling. I still smile at it. Also, I'm not used to the bow.
I understand that you have a bit of a personal connection with the original Carousel production.
The tie-in is this. The original star, the original Billy Bigelow was John Raitt. His nephew was a gentleman named James Raitt, Bonnie Raitt's first cousin actually. James Raitt was a pianist and musical director who worked in New York from the 1970s through the 1990s when I met him. It was right at the age when gay men who were in their 20s and 30s were dying of AIDS. He had been diagnosed by then. He was asked to be the musical director of Damn Yankees. I had been playing piano on off-Broadway shows. He was the person who said, "You should conduct." He literally said, laughing at the same time, "You should conduct and I'll be dead." I still have and use his baton. My middle son is named James, for James Raitt.
Another tie-in: my wife went to IU school of music [The Jacobs School of Music of Indiana University]. Her voice teacher was a man named Walter Cassle, who had made a career of playing Billy Bigelow at summer stock theaters.
TIME magazine named Carousel the best musical of the 20th century. How do you put on a play with such a big reputation?
The thing about great musicals, like great operas and like any great work of art, is they never lose their power. Sometimes you have to reinterpret the way that modern audiences' sensibilities change. But people know the music of Carousel. "You'll Never Walk Alone" -- they've heard it at a million funerals. They might not know where it comes from but they've heard it. I didn't really know the story or context behind the music. One of the things I'm big on when putting on a revival is we have to make the audience feel that these songs have never been heard before and put the audience back 70 years when no one had ever heard these songs before.
Richard Rodgers was known as quite the stickler – "Sing the notes I wrote, sing the rhythms I wrote." Now, you still have to phrase it and live in it, but what he really meant was, "I've done the work for you. Live in that moment." 
How do you marry the two, sticking to what Rodgers intended and making sure the songs sound fresh?
As a singer and as a performer, you have to be proactive rather than react. No back phrasing, no slowing down, no wallowing in the sound. It's all about telling the story. Nothing in the lyric is inherent.
[As the conductor] I try as much as possible to be glued to the actors. I come from a background that's more about pulse. I don't want to say groove because that's a modern thing but it really is groove. The writing has a rhythmic impulse. When it lilts, lilt, when it hops along, hop along. That's the way our life is and that's the way we feel rhythm. Sometimes singers want to wallow in a note or live in the moment forever but you can't because time moves forward.
And we also have to tell the audience where to listen by caressing the music. You do it through volume, time, tempo, rountandos, and when something is accented and when something is built. You give it time to do the unexpected and something spontaneous.
Director Rob Ashford decided to set the play during the 1930s, not the 1800s. Is there anything musically that reflects this change?
No, not really. There's a long tradition of musical style and place not necessarily lining up. The French Revolution sounds like synth pop in Les Mis. In My Fair Lady, 1900s London sounds like operetta. Paris in Phantom of the Opera has a disco beat.
Can you talk about any personal flourishes you've added to the music?
The craftsmanship is so high that it speaks on its own. There are a couple of things. We lighten it to make things a bit jokey. For example, in "Stonecutters Cut It," at the lyric "an' God knows what in all night," there's a huge chord, almost like a vaudeville chord. We sustain it so it's not as big of a gag. That's a place where attitudes towards spousal abuse are different than they were 70 years ago.
You've put on a few other Rodgers and Hammerstein musicals, including Cinderella and the Sound of Music Live. How does Carousel compare?
They're all incredibly different. Cinderella is wonderful and fun and joyous. The Sound of Music, even though it's got its dark moments, you know it'll be happy in the end. 
Carousel is a gray show. The classic hero is a not a classic hero. He's impetuous, he strikes out physically and verbally, he's impatient, he's not particularly kind to people. And you've got a heroine who defies authority and who's basically a very independent spirit when a young woman wasn't allowed to be. It has a suicide. Like all Hammerstein librettos, there's an incredible respect for the power of nature. "June is Bustin' Out all Over" is saying you can't stop nature.
Musically, how does Carousel stack up against the other Rodgers and Hammerstein works?
In general, Carousel is more mature, maybe the most mature of any score in musical theater. The whole prologue is a fascinating piece of music. The themes don't come into play at all. It does in the ballet but not in the songs because the whole opening sequence happens at Mrs. Mullin's carousel. We never go back to that place until the ballet. It's a very symbolic place, a very conceptual one.
There's the bench scene's "If I Loved You,"  the way it moves from theme to theme to theme, from the millworker's theme to an unnamed theme I like to call "Billy's philosophy," which never comes up again really. Julie and Billy never sing together, which is highly unusual, but they never sing together. Billy in the context of the bench scene parrots her melodies. The only original melody is Billy's philosophy – "you can't hear a sound, da da da da dum." It's a very deep, subconsciously mature thing.
What's your favorite song and why?
I have no idea. I'm a huge fan of "If I Loved You." My favorite orchestral piece is "When the Children Are Asleep." I love the way that it bubbles. It starts with the harp and the flute doing little sixteenth notes that are fast and joyous. It's one that sort of plays itself, even though it's very hard to play. And when the ballet starts, the orchestral music opens like an MGM movie, and your heart leaps up.
You're a frequent collaborator with Rob Ashford. Talk a bit about how his choreography and your music work together. 
More often than not, I've been the arranger. We've worked together, me on the piano and him on the dance floor. We will shape the music with the dance all together. This was a bit different because we were working with existing music. We made cuts here and there but this collaboration was somewhat different. 
One thing that Rob is absolutely brilliant at is using dance and movement in storytelling ways that aren't necessarily explicit. Even the way that the curtain goes up, the audience knows what the relationship between Billy and Mrs. Mullin is immediately. And he has it staged so Billy, Mrs. Mullin, and Julie are always in a triangle. You may not pick up on that while watching the show but it does register subconsciously.
Anything else you want readers to know about Carousel?
It's a blast. It's a great piece.
This interview has been condensed and edited. 
Watch a trailer from the musical.
Chicago Tonight viewers can save on tickets to Carousel by using the promo code TONIGHT. With this special offer from Lyric Opera, main floor tickets are $99 and balcony seats are $49. Performances run through May 3.