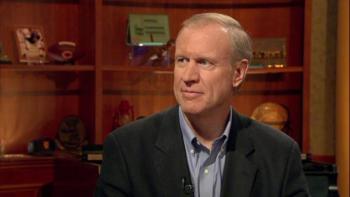 There are new indications today that a deal on the state budget is further off than Gov. Bruce Rauner may have thought. For his part, Rauner has proposed plugging the gap with massive cuts and making work rule changes that could limit collective bargaining and lower public employee wages.
On Monday, in a one-on-one with Chicago Tonight, the governor indicated he and legislative leaders were getting together on a deal. But today, Senate President John Cullerton is painting a different picture.
Budget Proposal?
Cullerton says he believes the governor has yet to even propose a balanced budget for the coming year, and that other agenda items would have to wait.
Last night, the governor talked about that agenda, which included budget cuts, but also passing laws establishing right-to-work zones – zones where joining a union is not a condition of having a job, and for laws reforming workers compensation, and lowering government worker and contractor wages.
He says it'll all be part of a grand bargain on the budget, one that he has been negotiating with top lawmakers – but Cullerton denies that there have been any negotiations.
"He's been friendly, we've been meeting, but we haven't gotten to the substance," Cullerton said. "There's no specifics, and that's what we're looking forward to."
A spokesperson for House Speaker Mike Madigan said they also had not talked about any legislation related to the turnaround agenda. The spokesman also criticized the governor's contention that millions of dollars could be saved by giving local municipalities power to change collective bargaining with employees and lower wages for contractors, saying there's no credible information to support that theory.
Pension Savings
The governor is also getting scrutiny from Cullerton, Madigan, and rank-and-file lawmakers for counting $2.2 billion in pension savings next year by curbing benefits.
The governor himself acknowledged the savings could only happen if lawmakers passed a referendum changing the language of the state constitution that says retirement benefits "cannot be diminished or impaired,"  in order to stave off future lawsuits. That's a process that is unlikely at best, and would take up to two years to accomplish.
Gov. Rauner was pressed last night to answer how those savings could be applied to next year, but said simply "there would be a built-in delay."
Funding Cuts
Lawmakers over the next few months will have to come up with their own budget solutions, but Cullerton drew one big line in the sand today. This was on the $125 million proposed cut in funding the state gives the city of Chicago, and the more than $100 million in cuts to the CTA.
"They have to be restored," he said. "The city is in big trouble with their own pension problems, they can't afford to take these cuts. The CTA, we don't want to have fare increases and fewer people taking the L, we want to do the opposite."
Senate President Cullerton also commented on the governor's $26 million in immediate cuts to social service programs like HIV funding, immigration services, and indigent burials.
And, Cullerton says it's unlikely the General Assembly will find the votes to pass Gov. Bruce Rauner's proposals on right-to-work zones and giving municipalities' local control to change labor agreements.