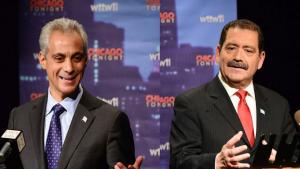 Chicago mayoral candidates Rahm Emanuel and Jesús "Chuy" García gave a brief news conference following the forum. Watch the web exclusive videos below.
Cook County Commissioner Jesús "Chuy" García expects to win the April 7 mayoral runoff. In a press conference after Chicago Tonight's candidate forum, García said voters chose change in February's election, and he thinks they'll choose a new mayor and a slate of new aldermen next week.
Asked what he thought of the forum, García called it a "fair fight," though he said he didn't receive a fair share of time. While it elicited boos from the audience, García wasn't asked by English-language media what he thought of questions about his son's gang ties and free legal representation his son received. He did answer three questions on the subject from Spanish-language reporters.
García also defended his budget record as a legislator and his claims that the city books are cooked, and said he can find up to half a billion dollars of savings in efficiencies and shared city services.
Watch his full remarks below.
Mayor Rahm Emanuel doubled down on his contention that a long-anticipated Chicago-owned casino could help solve the city's financial woes. In the forum, he stated the city could see $100 million a year in revenue. He says he has been having discussions with the governor and state lawmakers. But a casino bill has been on the legislative docket for years, failing to pass each year.
"I wouldn't bring it up if the talks weren't 'serious' this time," the mayor said.
But he refused to answer whether or not the casino would be subject to state gambling oversight. The issue of a separate Chicago casino oversight authority was what did last year's casino bill in.
Watch Emanuel's full post-forum comments below.