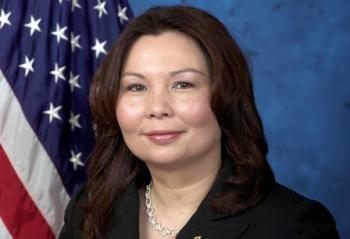 Congresswoman Tammy Duckworth announced she will run for Senate in 2016 against incumbent Sen. Mark Kirk. Duckworth rolled out her campaign in a low-key YouTube video announcement without campaign supporters or media covering it. Duckworth says she is running for the seat in order to "put Illinois communities and families first."
"I believe that together we can build an America that is strong from the ground up," she said. "We need more Pre-K. We need college loans to be affordable. And the engines of Illinois' economy are small businesses and the middle-class – I believe we need tax cuts for them for a change."
Duckworth also uses the video to introduce her to a statewide audience who may not be familiar with her story as an Iraq war veteran. She recounts her experience being shot at while piloting a Blackhawk helicopter resulting in the loss of both of her legs.
"The only reason I made it home was because of the heroism of my courageous buddies who risked their lives to save mine," she said. "I view my time now as a bonus, and that has allowed me speak up without fear."
Watch her full announcement:
Sen. Kirk's campaign wasted no time with his response to Duckworth's Senate bid. His campaign manager Kevin Artl stated:
"Senator Mark Kirk has served as a voice for all the people of Illinois throughout his time in the Congress.  He works across the aisle to take on the Veterans Administration for corruption and mistreatment of our returning heroes in Illinois, cut spending and block Iran from obtaining a nuclear weapon.  Senator Kirk looks forward to a conversation on the issues that matter most to voters across the state including his proven record of thoughtful, independent leadership, and his work each and every day to serve Illinois families."
The head of the Illinois GOP Tim Schneider also responded, saying:
"Rod Blagojevich protégé Tammy Duckworth is not the kind of partisan politician Illinois families want to represent them in the United States Senate. Duckworth represents the extreme wing of the Democrat party — voting with Nancy Pelosi 92% of the time. I have no doubt that next November, Illinois voters will re-elect Mark Kirk who has been a strong & independent voice for our state in Washington."
West suburban Congressman Bill Foster and south suburban Congresswoman Robin Kelly have also announced their interest in potentially seeking the Democratic Senate nomination.
Duckworth is scheduled to appear at a campaign fundraiser at the John Hancock Center Monday night.