Ald. Mary O'Connor faces a runoff challenge from Chicago firefighter and former police officer Anthony Napolitano. In the February election, O'Connor landed about 48 percent of the vote to Napolitano's 43 percent. While O'Connor has touted the accomplishments of her first term, many in the northwest side ward are angry over new O'Hare airport flight paths that they say have made their neighborhoods unbearably noisy. O'Connor and Napolitano join us for a forum ahead of the April 7 runoff.
---
Click the dots in the image below to read candidate bios.
---
41st Ward
This ward covers the northwest corner of Chicago, incorporating the neighborhoods of Edison Park, Edgebrook, Norwood Park, and O'Hare. The area is predominantly white. There are high concentrations of Irish and Serbian ancestries. This ward is home to many of the city's employees, like police officers and firefighters.
For the most part, the area is tight-knit, residential, and safe. There are numerous restaurants, bars, and shops in the area. The Norwood Park neighborhood is especially known for its lush greenery. Numerous trees, lawns, parks, and churchyards can be found here.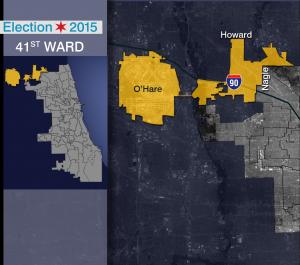 O'Hare
An undeniably prominent presence and formidable economic engine in this ward is O'Hare International Airport. The airport is augmented by a robust business center, supported by the close proximity of major thoroughfares like Interstates 90, 190 and 294, and Illinois Routes 72 and 171. A number of businesses have their headquarters in the O'Hare area, including U.S. Cellular, True Value, IGA and CareerBuilder, among others.
In tallying the number of takeoffs and landings, O'Hare International Airport is the busiest airport in the world. For eight years, this title was held by Hartsfield-Jackson Atlanta International Airport. In 2014, O'Hare reclaimed it. Midway Airport, located on the city's southwest side, used to be Chicago's primary airport until overcrowding led the city and Federal Aviation Administration to develop O'Hare as the chief airport in the early 1950s. Growth ramped up in the early 1960s when the main terminal complex was constructed. With a total of four terminals and 182 passenger gates, the airport is an aviation behemoth. In recent years, O'Hare has switched flight paths to run parallel instead of crisscross, sending planes directly over areas east and west of the airport. As flight traffic increases, so have the number of complaints over the ensuing jet noise in these areas, some of which fall within the 41st Ward.
Noble-Seymour-Crippen House
This ward boasts the presence of what's considered Chicago's oldest existing building, the Noble-Seymour-Crippen House. The mansion's southern wing was built in 1833 and originally used as a farmhouse by English immigrant Mark Noble. It was purchased by Thomas Hartley Seymour of the Chicago Board of Trade in 1868. Seymour renovated the house, raising the roof and adding a northern wing to accommodate his family and servants. When the Seymour family sold the house in 1916 to Stuart and Charlotte Allen Crippen, a concert pianist and actress, the new owners modernized the house with indoor plumbing and electricity. The Crippen family sold the building to the Norwood Park Historical Society in 1987 and the home received Chicago Landmark status the following year. It was added to the National Register of Historic Places in 2000. The house has been open to the public as a museum and community center since 1998.
---
Both candidates were sent questionnaires to fill out and send back to us. Read the unedited responses below.
Mary O'Connor

Age: 56

Place of Birth: Chicago, IL

Current neighborhood: Edison Park

Family: 4 brothers and sisters and 7 nieces and nephews

Occupation: 41st Ward Alderman, 41st Ward Democratic Committeeman, Owner of 2 Small Businesses - Unforgettable Edibles and O'Connor's Deli and Market

Previous political experience: Currently serving as Alderman since 2011 and Committeeman since 2008

What is your vision for the 41st Ward?

As Alderman, there are a number of priorities I want to focus on during my next term. Some of the major projects I have undertaken and will continue are to invest in our local infrastructure, parks and schools. While we've made great progress in recent years, we must continue to invest in our neighborhoods. Let's put more people back to work by rebuilding our great city.

Further, children's education is a critical part of the future of the City and the 41st Ward. We need to continue to invest in our schools and ensure that each school has adequate funding. I also want to grow the local economy by filling vacant storefronts and encourage small business growth.

In addition, the O'Hare expansion is a major issue affecting the ward and I will continue to keep pressure on the federal government to do far more to mitigate the impact of aircraft noise in the community, which has suffered greatly as a result of the decade long O'Hare modernization plan.

What is the most pressing issue in your ward?

For many years, the needs of the 41st Ward had gone ignored and it's time we focus on city services and getting back to the basics. Today, more tax dollars are being reinvested in our communities as a result of my efforts to secure additional investments in our schools, parks and local infrastructure. Those investments must continue as there is much more important work to be done. While many large-scale projects have been addressed, I would like to see the City of Chicago continue to make significant investments in the delivery of those basic city services that have diminished in recent years as a result of budget cuts. Important services that residents have come to rely on include street resurfacing, forestry issues, street cleaning, snow plowing, expanding senior services and other important functions.

What is your plan for fixing Chicago's financial situation?

We have to get our pension issue under control or nothing else will matter. Doing nothing is not an acceptable answer to taxpayers or to retirees depending on their pension for their retirement.

I wasn't in office when elected officials voted to skip payments and create this problem, but during my first term I've worked closely with my colleagues and the administration to forge a path forward.  I have supported labor agreements with 27 out of the 30 unions that negotiated with the City for a solution.  We did that by saying everything has to be on the table and everyone has to be expected to sacrifice so that none of us have to give too much.

How do you think the city has handled the severe weather this winter?

Severe weather is always difficult to tackle when up to 20 inches of snow falls onto our residential streets. My staff and I were on the phone with residents, department heads and the city service crews out in the field all day and night. Every available resource was fully implemented and the City and our plow drivers worked around the clock to continue to salt and plow arterial streets.

We received a lot of praise about our response given the enormity of the task, but there is always room for improvement. I'm very grateful to all the volunteers who worked with my office on helping those residents in need with shoveling. The 41st Ward is also one of the largest wards geographically in the city, and I continue to advocate for additional plows to help get to the side streets more quickly. When I discovered areas that needed additional attention, I paid from my own funds for crews to help augment the City's efforts.

Do you support Mayor Emanuel or County Commissioner Garcia in the mayoral race?

I am supporting Mayor Emanuel because I think he has done a lot of good in our neighborhoods. He worked very closely with the community and myself to secure over $100 million for 41st Ward schools, which will benefit generations to come. He is also the only candidate who has not only visited the 41st Ward but also called and met with me about our concerns.

What is your favorite restaurant in Chicago?

I'm fortunate that the 41st Ward has a wide range of cuisines to choose from – I can't pick just one!
Anthony V. Napolitano

Age: 39

Place of Birth: Chicago, IL

Current Neighborhood: Edison Park

Family: Wife and three children

Occupation: Chicago Firefighter

Previous Political Experience: None

What is your vision for the 41st Ward?

I believe the 41st ward needs and deserves an alderman who will stand up for our interests in city council. That means fighting to ensure police officers are not diverted from our community, taking a stand against property tax hikes that we can't afford, and demanding that noise from O'Hare is spread around as much as possible and soundproofing boundaries are expanded. I will be a full-time alderman with an open and accessible ward office – including a weekly ward night so everyone has an opportunity to have their voice heard.

What is the most pressing issue in your ward?

When I speak to voters at the door, the number one issue I hear is that they do not feel adequately represented in city government. The pension crisis needs to be resolved. For some, it's because they don't feel like anyone is advocating on their behalf with regard to airplane noise. For others, it's because they are not getting the city services they need. There are many young families in the 41st ward, and they tell me they're concerned about maintaining the quality of our neighborhood schools. What it all comes down to is that residents of the 41st ward currently lack an alderman who stands up for our issues.

What is your plan for fixing Chicago's financial situation?

The City of Chicago is in financial crisis, but we cannot fix the problem on the backs of hard-working families with a property tax increase. Unlike the current alderman that rents, I pay property taxes in the 41st Ward. I don't want to see another property tax increase driven by an alderman that doesn't pay them as her solution. I would like to see the city implement a range of solutions to address our financial situation. The biggest change I'd like to see is TIF reform to ensure that taxpayer money is being used on the basic city services we all rely on – not pet projects like the DePaul stadium or Marriott Hotel. The city must also work to sell the millions of dollars in vacant land it owns, which would simultaneously spur development and generate revenue. A land-based casino near McCormick Place would bring in hundreds of millions in additional revenue, and the LaSalle Street Tax would generate about $2 billion annually for Chicago.

How to you think the city has handled the severe weather this winter?

I can't speak for the entire city, however, in the 41st Ward, we had a very limited amount of plows available to us so the schools have resorted to volunteering parents for snow removal that the city should provide. At Stock school the teachers had to help kids out of their parent's cars including special needs children for a week because the streets were not plowed. Schools should be priority and since our ward is the largest ward in Chicago, our city services should reflect that.

Do you support Mayor Emanuel or County Commissioner Garcia in the mayoral race?

I am ready to work with either person as mayor, but I am most focused on being an independent advocate for residents of the 41st Ward – not a rubber stamp.

What is your favorite restaurant in Chicago?

My family and I frequent too many fantastic restaurants in the 41st ward to pick a single favorite. 
---
Click on the map below for vote percentages in all 50 wards.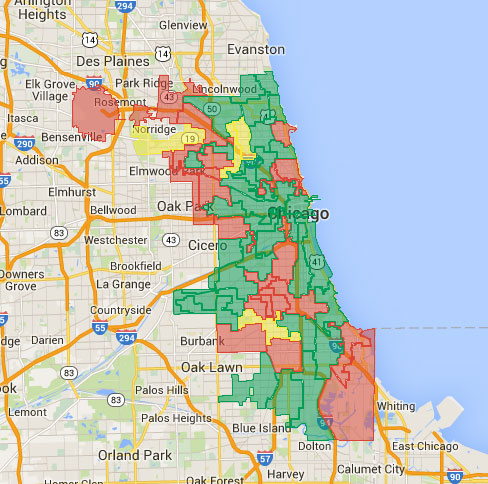 Click the dots in the image below to learn the percentage of votes each candidate received in the Feb. 24 election.
-- Graphics by Kristen Thometz and Linda Qiu; Yasmin Rammohan contributed