Only about 600 votes split the two top vote-getters in the 31st Ward. This forced Chicago Vice-Mayor Ray Suarez into a runoff election with former television reporter, Milly Santiago -- who got both the Tribune and Sun-Times endorsements. Suarez has a massive campaign war chest and the support of Mayor Rahm Emanuel and Joe Berrios, the Cook County assessor and chairman of the Cook County Democratic Party. Suarez has been the alderman of the 31st Ward for 24 years. Mayoral candidate Jesús "Chuy" García has endorsed Milly Santiago, along with Congressman Luis Gutierrez, Ald. Proco "Joe" Moreno (1st), State Rep. Will Guzzardi, and Cook County Commissioner Luis Arroyo, Jr. Both Suarez and Santiago join us.
---
Click the dots in the image below to read candidate bios.
---
31st Ward
Demographics and Industry
The 31st Ward incorporates a good portion of Hermosa, a predominantly Hispanic, blue collar community. Industry is an important part of the area. Roughly a quarter of the Hermosa neighborhood's land is used for industrial use and nearly two-thirds of the available employment in the area is industrial. Manufacturing is the most popular industrial sector.
The ward, the Hermosa neighborhood it incorporates, and adjacent neighborhoods are primarily made up of Hispanic residents. The area has a high population of immigrants. Approximately 35 percent of Hermosa's residents are foreign-born; 71 percent of those residents are from Mexico. According to a 2014 study by the Illinois Coalition for Immigrant and Refugee Rights, there are an estimated 4,114 undocumented immigrants in Hermosa, which means "beautiful" in Spanish.
Kelvyn Park
This ward is home to Kelvyn Park, established in 1911 by the Northwest Park District, one of 22 commissions consolidated into the Chicago Park District in 1934. The park covers 8 ½ acres, offering two softball fields, a soccer field, two tennis courts, and additional facilities. Kelvyn Park High School is located adjacent to the park. Plans are in place to add seventh and eighth grades to the high school in order to enroll students from nearby Ames Middle School, which the Chicago Board of Education has decided to convert into a military academy. Community residents of both Kelvyn Park and adjacent Logan Square have criticized the decision.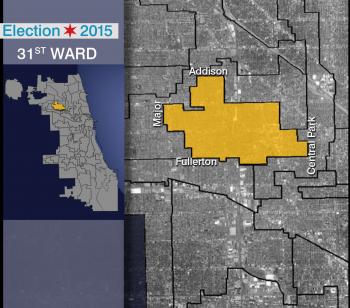 Crime
Crime and gang violence are problems in this ward. The neighborhood of Belmont Cragin saw six homicides last year and two more on New Year's Day. Nonprofit groups, like the Northwest Neighborhood Federation and the Hermosa Community Organization, have sprung up in the area to combat these problems by fostering community participation and offering youth-oriented programs. Ray Suarez, the incumbent alderman since 1991, has campaigned on a 27 percent drop in crime since 2013.
Walt Disney's Birthplace
On Dec. 5, 1901, in a small two-story cottage at 2156 N. Tripp Ave., the internationally celebrated cartoonist and filmmaker Walt Disney was born. His father, Elias Disney, built the home in the developing Hermosa area in 1892. In 1906, the Disney family would move to a farm in Missouri. Since then, the house has been heavily modified. In the mid-1960s, an owner decided to wrap the house in synthetic siding.
In 1991, the City of Chicago recommended the site for landmark status, but the owner at the time opposed the designation. In 2013, Hollywood animation producers Dina Benadon and Brent Young bought the house for $173,000. The pair raised over $40,000 fundraising online to restore and preserve the home to its original form. They plan to open the home as "a community resource with the mission of enhancing and exploring childhood creativity."
---
Both candidates were sent questionnaires to fill out and send back to us. Read their unedited responses below.
Milly Santiago

Place of Birth: Vega Baja, Puerto Rico

Current neighborhood: Between Hemosa and Belmont Cragin

Family: Two Adult Daughters

Occupation: Former Communications Manager for IOCI (Office of Communications and Information for the State of Ilinois)

Previous political experience: Political Reporter covering City Hall and Political Issues for 20 plus years for Telemundo and Univision. 26th Ward Alderman Billy Ocasio's first Chief of Staff.

What is your vision for the 31st Ward?

After 24 years, the 31st Ward needs a new Vision. I believe our Ward should encourage new, small businesses and restaurants; should assist teachers, parents and LSCs for greater classroom achievement; and should become a place where police and residents work hand in hand for greater community safety.

What is the most pressing issue in your ward?

Economic Development in our Ward has languished as the Alderman pressures local businesses to contribute to his personal campaign fund (now over 1.5 million dollars). My overriding theme is Public Participation. Our residents deserve to be allowed to contribute to plans for development of businesses as well as on plans for the Infrastructure, Education and Public Safety.

What is your plan for fixing Chicago's financial situation?

The incumbent alderman has presided over 24 years of mismanaged budgets for the City. We will not recover in one short year. I believe we should work with the state's General Assembly for a Graduated Income Tax. We should not rely on bandaid fixes of Red Light Cameras and LaSalle Street Taxes to nickel and dime our way back to fiscal security. I would consider a land-based casino in the convention district with a lot of oversight to make out convention business robust. While those influenced by Big Business want our residents to shoulder all the bailout for the mistakes of the past with a Property Tax Increase, that is the last place I believe we should look.

How do you think the city has handled the severe weather this winter?

In the 31st Ward, it depends on whether your neighborhood is favored by the Alderman. This must change and it will when I become Alderman.

Do you support Mayor Emanuel or County Commissioner Garcia in the mayoral race?

I plan on being an Independent voice in the City Council for our Ward, while my opponent has been a Rubber Stamp, voting with the Mayor 98% of the time. Mayor Emanuel has not tolerated 'independence' well. I have weighed the choices with respect to which candidate has a favorable vision for our Ward specifically. That Candidate is Jesus 'Chuy' Garcia. I have been witness to Chuy's work over many years and believe he will serve our Ward well.

What is your favorite restaurant in Chicago?

Cozy Corner, Zacatecas Borinquen and Bread Basket…all in the 31st Ward
Ray Suarez

Place of Birth: Yauco, Puerto Rico

Current neighborhood: Cragin

Occupation: Alderman, 31st Ward, Vice Mayor, Chairman of the Housing and Real Estate Committee

What is your vision for the 31st Ward?

My vision for the Ward is to create a safe community, which has economic opportunity for everyone.  Over the past 24 years we have had many successes in doing this and I want four more years to continue to strive for our goals.  I am most proud of being able to use my experience with the City Council to make the City of Chicago work for the residents of the 31st Ward.  Through building hundreds of units of housing, creating thousands of jobs, protecting and improving our schools and actively engaging residents and the police to reduce our crime by 27% we have been able to create a thriving community to live and work.

The last four years, the city of Chicago's economy has been down and it has hit our community hard.  However that did not stop us getting companies to set down roots in the 31st Ward.  In the last 3 years alone we have created over 2,200 jobs in the Ward.   The majority of those jobs came from two projects, the redevelopment of the Marshall Field's building into a high tech data center and building a Wal-Mart to serve the Ward.   We were able to convince these companies to invest millions of dollars in our community without providing TIF subsidies.  Additionally, we were able to get these companies to hire qualified people from the community first.  But to ensure these are good jobs that pay a living wage, I supported and passed an increase to the minimum wage in Chicago to $13 hour.  Now more money is being created and going into our community to support other small businesses. 

One of my most important jobs is to make sure our children have the right learning environment so they can develop the skills needed for today's job market.   I am proud to have secured over $140 Million in education funding for our community.  We have a new state of the art high School at North-Grand and have modernized Kelvyn Park.  We will continue to work with parents, teachers, and administrators to ensure we are getting the right curriculum, class size and top-notch teachers for our children.

As the Chairman of the City Council Housing and Real Estate Committee I have helped create thousands of units of affordable housing throughout the city.  I have used this expertise in making sure the 31st Ward has the right housing development to serve our needs.  I have made sure that our seniors have affordable, quality housing by building 4 senior buildings in the ward most recently 70 affordable units at George and Cicero.   As a Vietnam veteran I understand how important it is to make sure we pay back those who served our country, I am working with a developer to bring the first Veteran Senior building to the city of Chicago.   We have also provided affordable rental properties in the community.  Most recently we have modern housing development at 2930 North Central 30-unit modern apartments.

In my many years of serving the 31st Ward I have learned that our community works best when we all work together.  That is why my office and staff is always accessible to constituents from Ward Night on Monday to ensuring we have monthly CAPS meetings I know I must build the bridge from resident to the services they deserve.  Using this strategy we have reduced crime in our neighborhoods by 27%.    Our community has shown such great involvement in CAPS, we are the first Ward to have monthly CAPS meetings as pilot program.  I am proud of all who have made this happen.

Over the past years I have focused on improving the infrastructure throughout our community.  We have resurfaced hundreds of miles of roads, replaced curbs and gutters, planted hundreds of trees and implemented traffic control structures such as traffic circles and speed humps.  We have also worked with the State to make sure our connections to jobs in the Loop are accessible by modernizing two Metra stations, which service our community.

We have worked hard in the last 24 years to build a strong community and need a leader who has the experience, ability and knowledge to continue to pursue our goal of making the 31st Ward the best in the City of Chicago. 

What is the most pressing issue in your ward?

We have several pressing issues that are interrelated.  Over the past 24 years I have focused on building a safe community that has economic opportunity for everyone.  We achieve this by building good schools, having affordable housing, creating job in our neighborhoods and having safe, clean streets.  Working together to achieve these goals builds a sense of community.  Although I am very proud of my accomplishments so far I know we have much more to do.  The residents of the 31stWard need an experienced Alderman who has the ability, leadership, knowledge, and drive to continue the great success we have had.

What is your plan for fixing Chicago's financial situation?

Over the past four years we have reduced the deficit by over $300 Mill cutting it in half.  We have been able to cut spending but further cuts could be damaging to services provided by city, services the residents of the 31st ward rely on.  With the balloon pension payment upcoming, we need to increase our revenues and need to do it several ways:

TIF—

·         I support TIF reform.  The fact that scarce taxpayer dollars are being diverted with the overuse of TIFs means that I cannot in good conscience ask taxpayers to pay more before dealing with this issue.  In the 31st Ward we were able to redevelop the Macy's warehouse into a high-tech data center and build a Wal-Mart bringing over 1900 jobs to the community in two projects which did not take one dollar of TIF.  With better management of TIF dollars we could give back monies to combat the current and future deficits.  I will work to reform the TIF program so each dollar is wisely spent on either economic development to grow the tax base and provide jobs to our community or to help provide services to our constituents.

Sales Tax—

·         I support reworking the sales tax; this is an antiquated system that does not fairly tax services in the city. We can raise taxing luxuries and non-essential such as hiring an accountant or public relations firm or other professional services.

Casino—

·        As I have been before, I fully support Chicago receiving a casino license.  This could provide a revenue source targeted to tourists and conventioneers if placed in the right location.  Not only will the city benefit from the casino revenue, the casino will help Chicago's tourist and convention industry compete with other cities in America.  I support earmarking all casino funds for pension payments.

We need to explore these revenue sources as well as partner with the unions to find solutions.  I do not support a property tax levy increase.

How do you think the city has handled the severe weather this winter?

Overall I think the city handled the snow removal this winter pretty well.  The City done a good job of building on the experience of past winters to better concentrate resources. Snow removal must be a joint effort with the Department of Streets and Sanitation, the Alderman's office and the community.  This year as in the past, we worked closely with our snow removal team to ensure streets were clear as soon as possible.

Do you support Mayor Emanuel or County Commissioner Garcia in the mayoral race?

Mayor Emanuel has been a great partner for the 31st Ward and because of his support we been able to see the successes we have had in the last 4 years.  I am focused on my re-election campaign because it is so important to the future of our Ward and to ensure the progress that we have made in 31st ward will continue; and that starts with my victory on April 7.

What is your favorite restaurant in Chicago?

There are so many great choices in the 31st Ward, it is hard to choose but I go to Senor Pan a lot, it is great and close to the office. 
---
Click on the map below for vote percentages in all 50 wards.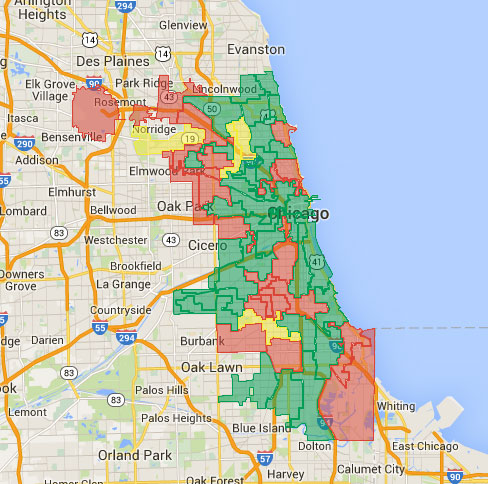 Click the dots in the image below to learn the percentage of votes each candidate received in the Feb. 24 election.
-- Graphics by Kristen Thometz and Linda Qiu; Yasmin Rammohan contributed