Chicago police are searching for a suspect in a shooting in the West Humboldt Park neighborhood where a 15-year-old boy was wounded last night.
It's the kind of violence some Chicago teens commonly witness or experience themselves, leading to a community of youth facing something often suffered by combat veterans: post-traumatic stress disorder.
To help both groups manage their respective trauma, the YMCA of Metro Chicago is bringing them together under a unique, new program called Urban Warriors.
On the court or in this audio production workshop, teens are getting more from their neighborhood Y than the "Swim & Gym" program that the YMCA of Metro Chicago is known for.
"It's like another family to me, another place where I can go," said Ishmeel Harris.
At a Y in South Chicago, Harris is one of 15 young men from some of Chicago's rougher neighborhoods.
They're participating in the Y's pilot program, Urban Warriors, bringing together post-9/11 combat veterans with teens.
The two groups discuss and heal from their common experiences with violence and trauma.
"Watching people die, or they got shot at, or someone said they got shot before, but I never got shot before," said Malek Hunter. "But I've seen people get shot before."
"What goes on in my neighborhood? Just gang-banging, a lot of shooting," said Harris.
While much of what the veterans have experienced is well-documented, to hear these teens' stories is surprising.
View a slideshow of the Saturday morning meetings, which included a visit to the Pritzker Military Museum & Library, and of the Urban Warriors graduation.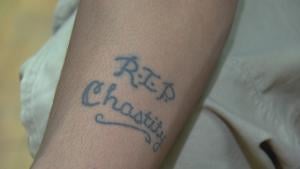 Harris memorializes his deceased cousin with a tattoo that reads R.I.P. Chastity.
"My little cousin died. She was 9 years old. She was at her [daddy's] house; her daddy had a fight with a gang member and I guess he lost. And then they had came back the next day and did a drive-by," Harris said. "She didn't lay down. She tried to run to the back of the house, and as she ran, a bullet hit her in the upper shoulder of her back."
The group meets weekly on Saturdays for 16 weeks, with a graduation ceremony at the end.
Justen Wallace, 12, rides the bus almost an hour and a half from his home in Bronzeville to be here.
"I know that the group is not just for me or the youth. It's for the veterans too, because the veterans experienced most of the things that we have saw, or more painful and stuff they saw than us," Wallace said. "So, it's important to me that I can get up Saturday mornings and be here."
The idea came from the co-executive director of the Y's Youth Safety and Violence Prevention unit, Eddie Bocanegra.
It's based on his own experiences growing up in Little Village in the early '90s.
"In the city of Chicago's 77 communities, if you are born in a specific zip code, then that determines a lot of your trajectory," Bocanegra said. "And that trajectory could be from accomplishing high school to ending up in prison, or more like being a victim. To being a person who's actually excelling, who is going to a good school, who is going to—you know chances are going to be going to college—and so forth."
In this web extra video, YMCA of Metro Chicago's Eddie Bocanegra tells his own personal story, which led him to develop the Urban Warriors program, and what he hopes to achieve with it.
The veterans Bocanegra recruits are from the same neighborhoods as the teens.
For service members like Carlos Luna and Charles Sergeant, this is a continuation of their mission at home.
"We have to attack the issues in our community, and we can't wait for other people to do it. Find a way to get involved. If this is your vehicle, it's a great vehicle," said Sergeant. "If it's through church or other programs, but we need to be involved. No one else is going to fix our problem. We have to be a part of fixing our own problem."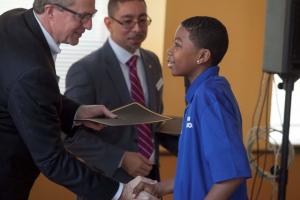 "If we can get larger groups of kids doing things like that, you know in a positive way, it might change the mindset of other people who see them," said Luna. "I mean it just seems like these kids are getting attacked by everywhere, because we don't have anything to really prevent them from doing anything. We have plenty of cameras up to catch 'em doing things, but we don't have anything to stimulate their minds in other ways."
The Y has operated two cohorts of Urban Warriors, graduating a total of 28 youth with 10 veteran mentors.
A new $400,000, two-year grant from the MacArthur Foundation will allow the Y to bring more men into the program and study its effects.
Dr. Bradley Stolbach at The University of Chicago Medicine says those outcomes will depend on whether the program can change the younger Warriors' lives.
"The outcomes that are most important have to do with the trajectory that the youth is on and whether or not you can have an effect on that," said Stolbach.
Bocanegra says his own research could find no other program like Urban Warriors in the country.
He and Stolbach liken these teens' situations to those of child soldiers in other countries. Bocanegra hopes to change the way society views young men in violent cities like Chicago.
"What I hope to gain of all this, is one challenge the narrative of our kids, that they're worth investing. And that no kid is born with the idea of 'I'm going to pick up a gun and shoot somebody,'" Bocanegra said. "Something happened to this kid, and the big difference I mentioned a moment ago is really the zip codes they live in."
Until what happens in those zip codes changes, this Warrior hopes to keep fighting to change the lives of the children in them.
The YMCA says to date, the MacArthur grant is the largest it's ever received for its Youth Safety and Violence Prevention Initiative.