It was a race that would have pitted displaced 15th Ward Ald. Toni Foulkes against her colleague, 16th Ward Ald. JoAnn Thompson. But Thompson died unexpectedly before election day, shrinking the 16th ward battle from a field of five candidates to four. Now, the remapped alderman faces Stephanie Coleman, the daughter of former 16th Ward Ald. Shirley Coleman, who was beat in a runoff by the late JoAnn Thompson in 2007. Coleman joins us. Ald. Foulkes had a fundraiser scheduled and declined our invitation.
---
Click the dots in the image below to read candidate bios.
---
16th Ward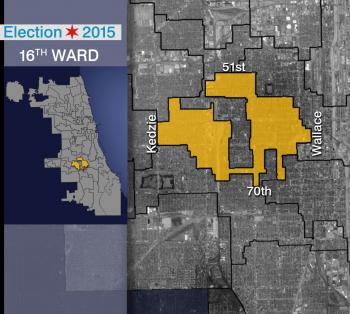 A Shift in Land and an Incumbent's Death
The 16th Ward acquired larger sections of the West Englewood and Gage Park neighborhoods in the ward remap taking effect this year. The land shift led one incumbent alderman to run against another. The neighboring 15th Ward lost portions of Englewood, which prompted that ward's alderman, Toni Foulkes, to challenge JoAnn Thompson, incumbent of the 16th Ward. The remap gave the 15th Ward a 68 percent Hispanic majority and Foulkes said she wanted to continue to serve her African-American constituents. Thompson, who served the 16th Ward since 2007, died from heart problems on Feb. 9 – about two weeks before the election. This pitted Foulkes against four other opponents. No candidate received a majority of the vote, so a runoff election is being held between the two frontrunners, Foulkes and Stephanie Coleman, daughter of retired Ald. Shirley Coleman.
In Need of an Economic Jumpstart
This ward is struggling economically and could benefit from more activity. The area is populated with numerous auto body and repair shops, but lack restaurants and retail stores. There are steady signs of change, however. Earlier this year, Dream Café and Grille opened up in Englewood, offering a healthier and fresher dining alternative to the ward's fast food chains. The Greater Englewood Community Development Corporation is in negotiations to buy and transform a former furniture store at 63rd and Halsted streets into a business innovation center and public kitchen. The center would offer burgeoning business owners and hopeful entrepreneurs a place to hold meetings, make phone calls, print materials and more. The kitchen facility would be over 3,000-plus-square-feet and provide commercial and industrial equipment for novice chefs and food-makers.
Click on the map below for vote percentages in all 50 wards.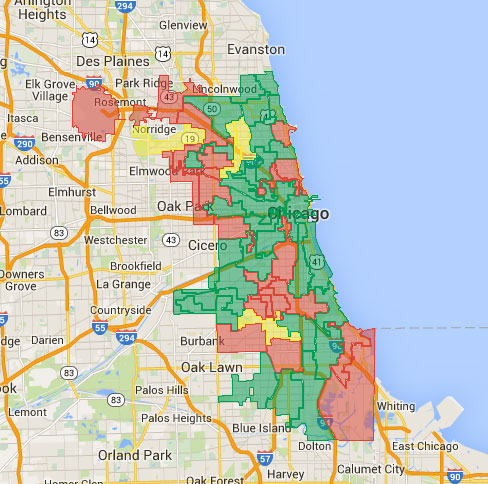 Click the dots in the image below to learn the percentage of votes each candidate received in the Feb. 24 election.
-- Graphics by Kristen Thometz and Linda Qiu; Yasmin Rammohan contributed