Candidates for mayor -- Rahm Emanuel and Jesús "Chuy" García -- went one-on-one in the first runoff debate Monday.
The two hit hard on each other's positions on city finances, crime, and red light cameras. Tonight's debate comes amid scrutiny that both candidates are avoiding the tough answers on the city's precarious fiscal situation.
City Finances
The two continued to attack each other's lack of a specific fiscal plan. Mayor Emanuel called García out for wanting 1,000 new police officers and ending red light cameras without suggesting realistic ways to pay for it.
"As a legislator, you pass bills," Emanuel said. "As mayor, you have to pay the bills."
García knocked Emanuel for a lack of transparency and spending TIF money on crony developer projects, and accused the Emanuel administration for conducting the budgeting process in secret.
"There have not been any audits of any department in the city of Chicago," said García. "Every year, there are secret budgets with little information revealed. Chicagoans need to know the true state of our financial situation."
Crime 
On the subject of crime, both candidates acknowledged the city's bruised national reputation as a crime capital, while García acknowledged that crime had gone down somewhat in his neighborhood. Emanuel acknowledged that the crime drop wasn't enough. The two sparred over the role of bolstering community policing to get the rate down even further.
"The mayor has hired one community policeman in Chicago. He has 999 more to go," García said.
"From Garry McCarthy down to the beat officer, everybody practices community policing because it's about building trust between the police department and residents, and that's how you make sure you reduce crime," Emanuel said.
Red Light Cameras & Pensions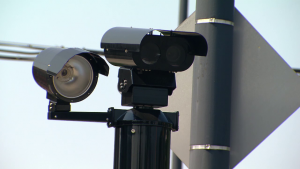 On the controversial red light cameras, García repeated his charge that the program is just a way to derive revenue off the backs off the poor and working class, while Emanuel again hit García for voting to support a red light camera at a suburban intersection after taking a donation from the red light camera vendor.
The two also addressed the looming $550 million payment owed to police and fire pension funds, with the mayor all but ruling out a property tax increase to foot the bill. García blamed the mayor for the city's continued credit rating spiral.
"He underfunded the pension funds in the city of Chicago. Now he's coming forward trying to talk in a very sophisticated way about how he's going to fix it," García said. "He said he would do it and he's failed to do it."
Also at stake is a massive payment owed to Chicago teacher pensions, which has helped create a $1 billion Chicago Public Schools budget hole. Emanuel said García was partly to blame for the CPS pension mess because of votes he took as a state legislator.
"In 1997, down in Springfield, you voted on the teacher pension fund when you were warned by CPS not to give a holiday and miss payments because it would create a crisis," Emanuel said. "The crisis you're talking about was started in Springfield in 1997. The challenge we have today wasn't created four years ago."
Polling
Tonight's debate on NBC-5 comes as new poll numbers show Rahm Emanuel opening up a double-digit lead in polling. According to Ogden & Fry, Mayor Emanuel is running 47.1%, García at 36.7%, with 16.2% undecided. It was the first of three televised debates leading up to the April 7 election. On March 26, Emanuel and García will participate in FOX-32's debate, and on March 31 they will participate in our Chicago Tonight forum on WTTW11.