Local filmmaker Edgar Barens was honored with an Academy Award nomination for the documentary, Prison Terminal: The Last Days of Private Jack Hall. Though the film buzz has ended, Barens is on a mission to bring more inmate-operated hospice care to prisons all over the country. We talk with him about his efforts and the prison hospice system in Illinois. 
Watch a trailer for the documentary.
View a graph of deaths in Illinois Department of Correction facilities from 2005-2013.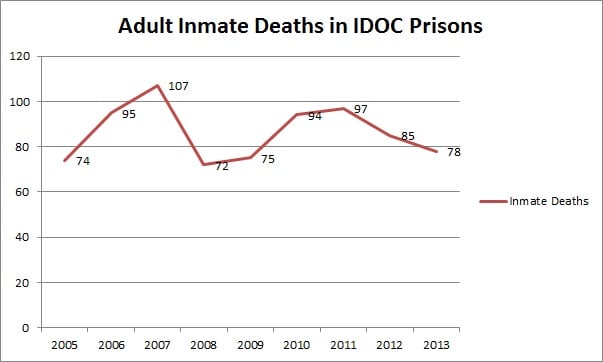 Source: Illinois Department of Corrections
Numbers: Incarceration in the United States
While the United States has only 5% of the world's population, it has 25% of the world's prison population. That makes the U.S. the world's biggest jailer. As of last year, the U.S. had over 2.2 million incarcerated individuals. China is next in line with over 1.7 million prisoners. By comparison, however, the communist country's population is a whopping 20% of the world's total population.
More than 1 of every 100 Americans is incarcerated.
One in 31 adults is under some form of correctional supervision. This includes prisons, jails, parole, and probation populations.
Prisoner recidivism is a serious problem in the U.S. Last year, the Bureau of Justice Statistics announced that an estimated two-thirds (68%) of 405,000 prisoners released in 30 states in 2005 were arrested for a new crime within three years of their release. Three-quarters (77%) of those prisoners were arrested within five years. Of those prisoners, more than a third (37%) of them were rearrested within six months of their release.
According to the 2010 census by the U.S. Census Bureau, 4.8% of black men, 1.9% of Hispanic men, and 0.7% of white men are incarcerated.
Sources: United States Census Bureau, Bureau of Justice Statistics, International Centre for Prison Studies, American Civil Liberties Union