After the shocking murder of three Muslim Americans in North Carolina, we examine whether Islamophobia and anti-Muslim hate crimes are on the rise. In a post-9/11 world, is it inevitable that some people will always view Muslim Americans with suspicion? And what role has mainstream media and movies such as American Sniper and Zero Dark Thirty played in demonizing all Arabs and stirring anti-Muslim sentiment? Joining us with analysis are Randa Kuziez from the Interfaith Youth Core, Ahmed Rehab from the Council on American-Islamic Relations, and freelance journalist Deanna Othman.
---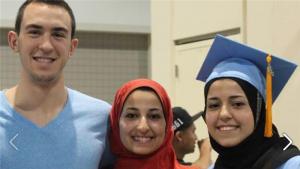 Ahmed Rehab says that the "lion's share" of the blame for rising anti-Muslim sentiment can be placed at the feet of the media, noting that for many people, their only knowledge of Muslims and Islam is what they see on newscasts.
"It's not by design or by intention, but as a consequence of how they cover the news," says Rehab, bemoaning the lack of understanding that fails to recognize the diversity of opinions that exist within Islam and the Muslim community. "There is not enough being done in the coverage to distinguish between the perpetrators [of terrorist acts] and the large majority that doesn't support it. Anybody watching CNN should walk away with the idea that ISIS is rejected by most Muslims. After all, 90 percent of those fighting ISIS are Muslims, and 90 percent of those being killed by ISIS are Muslims."
Randa Kuziez, who works for the Interfaith Youth Core, which promotes interfaith dialogue and cooperation, was in Chapel Hill when Deah Barakat, his wife Yusor Abu-Salha and her sister Razan Abu-salha were murdered.
She agrees that the media is both part of the problem, and potentially part of the solution.
"The volume of anti-Muslim sentiment is very loud right now," says Kuziez. "I wear the hijab and people have said to me things like 'go back to your own country.' This is my country."
She says she would like the media to highlight more of the positive contributions that Muslim Americans make.
"I think it's important to highlight more positive stories about Muslims," says Kuziez. "I can rarely watch the TV news because I get so upset."
Deanna Othman is a freelance journalist who recently authored an article for the Chicago Tribune titled "Will Muslims ever be part and parcel of America?"
Othman says that perhaps one of the good things that has come out of this tragedy is that a lot of positive stories have been told about the three Muslims who were murdered and how they gave back to their community.
But, she says that in the mainstream media there appeared to be an initial reluctance to look at the murders in Chapel Hill as a potential hate crime.
"It seemed as though there was a delay in the reporting," says Othman. "When Muslims are the victims of crime, there seems less urgency to report that. But, when they are the perpetrators of crime, that's breaking news."
View a timeline of post-9/11 anti-Muslim events in the U.S.
-- Timeline by Eman Shurbaji