Geoffrey Baer looks into the history of the African-American community in Lake Forest and tells the sandy story of a streetcar secret in this week's edition of Ask Geoffrey.
Can you tell me about the African-American community that lived in Lake Forest in the late 19th century? -- Pauline Saliga, Beverly
From Lake Forest's earliest days, there was a small African-American community in this wealthy North Shore suburb.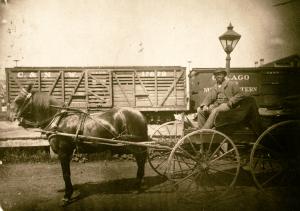 Lake Forest's first and longest-serving mayor was a wealthy abolitionist and an important Underground Railroad figure named Sylvester Lind. Lind made his fortune in lumber and secretly transported escaped slaves to freedom aboard his lumber ships on the Great Lakes. He helped to create Lake Forest by funding the establishment of what later became Lake Forest College.
Most African-American families in Lake Forest's early years lived in a neighborhood just west of the tracks. Many had escaped slavery and found work in Lake Forest, like Samuel Dent, who escaped enslavement in Alabama, and served in the Union Army, during the Civil War. He lived the rest of his life in Lake Forest as a livery driver and became a beloved figure in town. He even gave sightseeing tours of the estates to visitors. Today, there is a jazz band named in honor of Samuel Dent.
Another African-American man, Julian Matthews, also ran a livery service. He lived on the second floor of the business with his wife, Octavia. Octavia ran a restaurant, bakery, and ice cream parlor in the same building, and Julian delivered Octavia's baked goods and drove concession wagons to the very fancy Onwentsia Country Club nearby.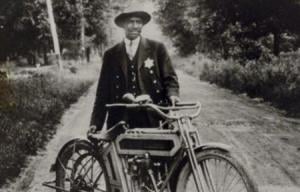 The second police officer in Lake Forest was an African-American man, Walker Sales. Sales came to Lake Forest from Kentucky and worked as a coachman until becoming a night-duty policeman in 1900, serving for almost 20 years.
Lake Forest public schools were integrated from their inception in 1860. In fact, the first public school teacher in Lake Forest was the niece of the famous abolitionist Harriet Beecher Stowe who wrote Uncle Tom's Cabin. In this building, Roxana Beecher taught black and white children during the day, and former slaves, as well as white adults, at night.
Lake Forest had not one but two black churches by 1900. One of them, the First Baptist Church of Lake Forest, still stands and is going strong more than a century later.
But while it's definitely true that Lake Forest was relatively progressive on race relations, African-Americans historically were not on an equal footing with their white neighbors. Many, if not most, of the African-Americans in town worked as servants for white families. And that African-American neighborhood west of the tracks was razed to build one of America's first shopping centers, Market Square, which opened in 1917.
One of our sources said the black neighborhood had been on the route from the mansions to the country club and white residents found the area "an eyesore."
A wonderful resource for those looking to explore Lake Forest's African-American history is this virtual tour put together by Lake Forest College. And there's even more African-American history throughout the North Shore. Here are a few examples:
Glencoe's St. Paul AME Church has been serving that town's black community since 1884. As in Lake Forest, African-Americans in Glencoe moved there historically to work in service jobs. Schools were integrated from the beginning, but beaches were not. A large swath of their neighborhood was razed and turned into parkland in the 1920s. Glencoe had an African-American mayor (actually Village President), James O. Webb, from 1993 to 2001.
The most infamous example of alleged North Shore housing discrimination happened in Deerfield nearly half a century later. In 1959, a developer planned two integrated subdivisions and started building two model homes. When the plan for integration came to light the village stopped construction for code violations.  The village then purchased the land through eminent domain and converted it to a park. The Illinois Supreme Court upheld the village's position that it was simply a matter of the need for parkland.
Dr. Martin Luther King Jr. spoke on the Winnetka Village Green in 1965 arguing for open housing on the North Shore.
Evanston's large African-American community pre-dates the Civil War. The first African-American Boy Scout troop in the country was formed in Evanston in 1911, according to the Chicago Defender. It was officially recognized the following year. In Evanston, as elsewhere, African-Americans and others demonstrated for equal rights. One outspoken leader was Medill graduate Edwin B. Jourdain, who became managing editor of the Chicago Defender and was elected Evanston's first black alderman. Today, a community center is named in part for him.
I saw a documentary about Chicago where sandboxes on streetcars were mentioned. What can you tell me about the presence of sandboxes and their purpose? -- Julie Hurlbut, River Grove
Our viewer Julie said she heard several theories about the purpose of the sandboxes, including that the sand was used after people got motion sickness on bumpy streetcar rides, and that children could play with the sand if they got bored with the ride. But our viewer's husband thought the sand was to dump under the wheels to gain traction when the tracks got slippery. We don't usually like to get involved in marital disputes, but Julie: your husband was right.
Below is a nine-minute training film, called Black Rail, from the 1940s devoted entirely to the use of sand to prevent streetcars from sliding when brakes were applied in slippery conditions. The sand was released onto the tracks through pipes located in front of the wheels. This film was lent to us by longtime CTA rail car engineer Walter Keevil.  It's one of many wonderful vintage transit films made by Walter's uncle, Charles Keevil.
The sandboxes were required on streetcars by Chicago municipal code. They were tall boxes with hinged wooden tops located behind the motorman, and in some cases also at the rear of the car. On older cars, the sanders were operated by a lever in front of the motorman. Later models were operated by push button. Either way, the sand was released into the tubes and many accidents were prevented.
Walter acknowledged that kids might have played with the sand, and that occasionally riders would use the sandboxes when they got sick. The sandbox was also where the conductors would throw away used paper transfers. Those "non-approved" uses were problematic because of course they would clog the sanders, which could lead to accidents.
Streetcars went out of service in Chicago in 1958, but according to the CTA, sanders were still used in "L" rail cars until the 1990s. By then, changes to the propulsion system that prevented slip-slide made sanders obsolete.
For fans of streetcars, as well as sanders, here's a fun video from George Kanary – at the very end of the video is a brief scene where Santa Claus moonlights as a motorman on a "fan ride" in 1955 – don't blink or you'll miss when he uses the sanders!