Driving to work this morning, listening to WFMT, hearing the name Andrew Patner and thinking that Critic's Choice was next… then the sorrowful announcement: Andrew Patner, Chicago's finest arts journalist, dead at 55 after a brief illness.
It's hard to believe. All of that energy and talent concentrated in one human being… now gone.
A dozen years ago, Andrew Patner and I were two Chicago journalists chosen to be part of the Getty/USC Annenberg Arts Fellowship in Los Angeles. Fellows from across the country met in LA to experience the art and culture of Southern California and to discover that "the art of Southern California" is not an oxymoron.
I was of the just-happy-to-make-the-team variety. Andrew Patner was an All-Star. In fact, among some very accomplished people, he was the Most Valuable Player.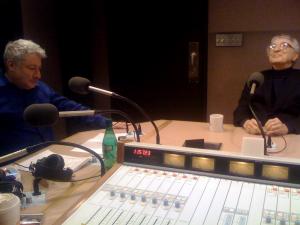 For three weeks, Andrew Patner shared his thoughtful words, illuminating insights, and endless curiosity. Shared is key because, although he was clearly the best and the brightest, he never lorded his intelligence over the rest of us. He genuinely wanted everyone to share in what he knew, and he wanted to know what we knew.
His interests were famously eclectic: he could talk at length about the painter Lucian Freud, the rock music of Morrissey, or the shortcomings of the latest LA Opera production. Architecture, Indian music, film, James Thurber, journalism… what wasn't he interested in? Andrew Patner was just a pleasure to be around, one of the most stimulating human beings I've ever met.
Regretfully, I had too many brief interactions with him in the years since 2003 – at the theater, in the concert hall, or in the lobby of this building – yet every time we met, it was a pleasant experience. Andrew would ask me what I was working on and then offer words of support or a suggestion that got me thinking.
We're blessed by memories of him, but this is a huge loss for the arts community in and beyond Chicago.
Rest in peace, Andrew.