A viewer remembers a gardenia-garnished cocktail from Trader Vic's, but can't recall the name. Geoffrey Baer plays drink detective in this week's edition of Ask Geoffrey.
At the famous restaurant Trader Vic's at the Palmer House hotel, they served a fabulous cocktail that had a real fresh gardenia floating in it. What was the name of this drink? -- Marilyn Koepke, Batavia
Many of our viewers will remember the Polynesian-themed restaurant Trader Vic's in the Palmer House from 1957 to 2005. Like all tiki bars, it was best known for its extensive menu of elaborate, beautifully presented tropical drinks. Our viewer Marilyn described her drink as a rum cocktail served in a short-stemmed coupe glass and topped off with a fresh gardenia.
According to the Trader Vic's Book of Food and Drink, that cocktail was the Scorpion, described in the book as "a drink which does not shilly-shally or mess around in getting you under way." You could even order this drink for the whole table, served in a big bowl with four straws!
The Chicago Trader Vic's was just one of many across the country. The chain was started in Oakland, Calif. by a very colorful character named Vic Bergeron. In 1937, he opened a restaurant he first called Hinky Dink's with a few hundred dollars borrowed from his aunt. According to a Chicago Tribune profile, Bergeron changed the restaurant's name to Trader Vic's and moved to a tropical theme after he visited Los Angeles' hot Polynesian-themed restaurant Don the Beachcomber, and decided he could do a better job with the idea.
The tiki culture really exploded in America after World War II, when soldiers returned from the South Pacific with a newfound love of Polynesian culture. As the tiki craze grew, Trader Vic's added locations across the country and even overseas, many in Hilton hotels. Vic Bergeron claimed to have invented Mai Tais himself, and they served other rum drinks with names like the Suffering Bastard and the Samoan Fog Cutter, along with a menu of Americanized Asian food.
The Palmer House Trader Vic's closed in 2005.  Three years later, it re-opened on State Street near Oak, decorated with many of the original location's furnishings, but that one closed in 2011.  So while the venerable chain has many locations worldwide, Trader Vic's currently has no Chicago outlet.
Feel like mixing up a Scorpion of your own? Here's the recipe for a big batch – but be careful – it stings!
1 1/2 bottles Puerto Rican Rum
2 ounces gin
2 ounces brandy
16 ounces lemon juice
8 ounces orange juice
8 ounces orgeat (almond flavoring)
2 sprigs mint
1/2 bottle white wine

Mix thoroughly, pour over cracked ice; let stand two hours and add more ice. Garnish with gardenias.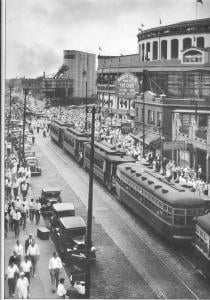 My dad said that his parents lived across the street from Wrigley Field back when it was a coal field. What year would that be? -- Kris Johnson, Northfield
Well, the land where Wrigley Field itself stands was never itself a coal yard, but it was actually surrounded by coal yards, as well as freight rail lines and lumber yards, at the turn of the century and well into its history. And even earlier, the site of the ballpark itself was home to a Lutheran seminary, which is where Seminary Avenue got its name.
The Chicago Lutheran Theological Seminary opened there in 1891. Despite the fact that there was already one coal yard right across the street, the Lutheran minister who built the seminary thought it would be a peaceful place for his students' quiet contemplation. But soon, coal and lumber yards took over much of the area, attracted by the Chicago and Evanston railroad (later the Milwaukee Road). The young seminarians complained of the coal yard's "smoke, dust, grime, soot, dirt, foul gases; railroading by night and day; whistles, ding-donging of bells late and early and in between times…the unsanctified men in charge sending the unsterilized particles, odors and speech into the homes, eyes and ears of the seminary habitants." The seminary abandoned the site and moved to Maywood in 1910.
That same year, Federal League founder and Chicago Federals (later named the Chicago Whales) ballclub owner Charles Weeghman decided to build his team's new ballpark at Clark and Addison. The ballpark was completed in 1915 and Weeghman's Whales won the Federal League pennant that same year. In what was perhaps a harbinger for future occupants of the stadium, the Federal League folded shortly after, and the Cubs moved into the park in 1916 under owner William Wrigley Jr. and Weeghman Park became Wrigley Field in 1926.
Still, the coal yards stuck around for longer than you might think. The Wright and Company coal yard across Clark, where McDonald's is today, operated until 1938, and the coal yard with five hulking silos on Seminary Avenue and Clark Street operated until 1961. That means "Mr. Cub" Ernie Banks, who passed away last weekend, played next door to those silos for the first eight years of his career!
Most recently, the site was used as a team parking lot, but as part of the Wrigley renovation, it's now a construction site for a new Cubs clubhouse and office building, as well as an open-air plaza.