In 2013, when Chicago Public Schools closed some 50 under-enrolled elementary schools, the goal was to send those students to higher-performing schools. And, according to a new report from The University of Chicago, almost all of those students did go to better schools -- but only a little bit better.
The Consortium on Chicago School Research tracked the enrollment of the 11,000 students who attended the closed schools, and also interviewed their parents about how they navigated the enrollment process.
The report found that 93 percent of the displaced students ended up in schools with higher performance ratings than their previous school. But only 21 percent ended up in Level 1 schools, the district's top-rated schools.
One-third remained in schools designated by CPS as Level 3 schools; that's the lowest rating the district gives.
"You know behind the accountability ratings, there is a measure that gives a school a number between 0-100. So, when you look at those numbers, schools that are between 0-50 are schools on probation; between 50-70 are schools at Level 2; and above 70 is Level 1," said Marisa de la Torre, CCSR Director for Internal Research Capacity. "So when we compare those measures that are behind those levels where we see students in schools that were higher rated."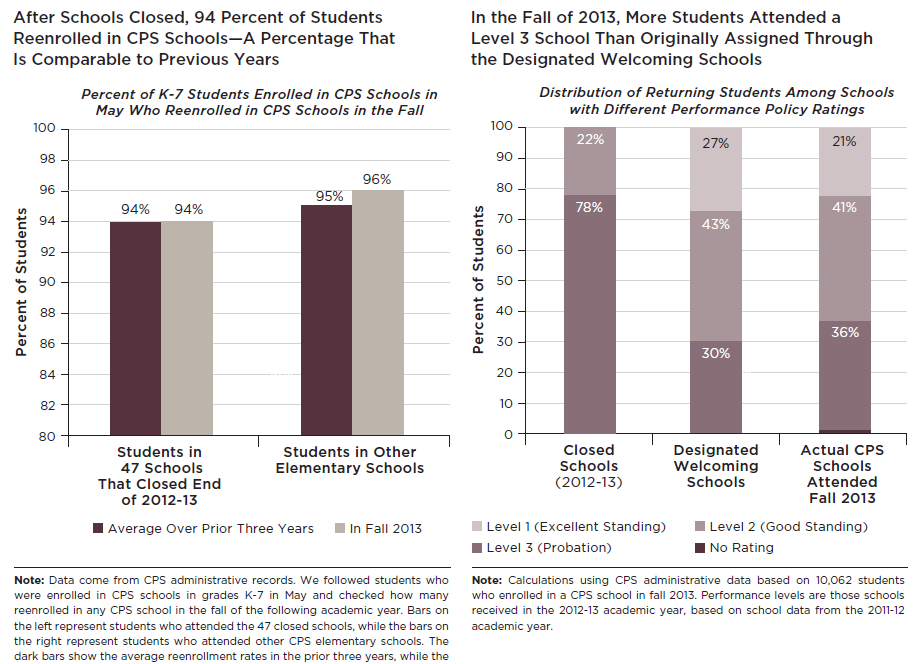 The report says while it still needs more study, previous research shows that students only show improvement when moved to substantially higher-performing schools, versus somewhat higher.
The report shows that a third of students enrolled in schools other than the district's designated "welcoming schools." And, of that third, half landed in schools that were lower-rated than the welcoming schools.
Researchers at U of C also spoke with 95 families about how they navigated the process of switching schools, and they found a few things.
For one, what the district considers a well-performing school and what parents consider a well-performing school are two different things.
And, also a school's proximity to home played a big role for parents in deciding on a new school, and that can mean more than just distance from home.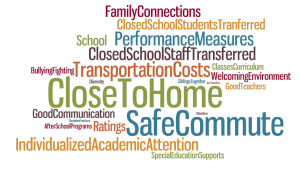 "What we learned is that families define academic quality in a much broader way than a school's performance policy rating," said Molly Gordon, CCSR Senior Research Analyst. "So, a school's performance policy rating is made up of test scores mostly and a little bit of attendance. But families don't choose schools just based on test scores. For example, there might be a higher-rated school down the block, but if a family didn't feel safe, that their child would be safe getting to that school or from that school, then they wouldn't choose that school. They may choose a school closer to home that they feel is safer, but might be slightly lower-rated than the welcoming school."
While some parents sent their kids to a different school from the designated "welcoming schools," others didn't even know they their kids had the option to go anywhere else.
I spoke with a few parents who were a part of the Overton school closure, whose children now attend Mollison Elementary in Bronzeville. The two schools are just blocks away from each other.
To give you an example of what the researchers looked at, both Overton and Mollison, were Level 3 schools on probationary status with CPS during the 2012-2013 school year. But Mollison, at the time, was almost 12 points higher than Overton. This year, it's considered a Level 2 school on provisional support, so it's just second from the bottom of the district's rating policy. (The district has also updated its ratings process, so many schools changed levels.)
The graph below shows data for K through 7th grade CPS students in May 2013. The light blue areas show data for all 235,067 K-7 CPS students. The blue areas show data for all 33,564 students in the 129 elementary schools initially considered for closure. The dark blue areas show data for all 10,708 students in the closed elementary schools. The data is based on CPS administration data, census data, and police crime data. 
One parent whose kids were at Overton before it closed said she didn't investigate other school options because she felt she was sold a dream; that kids would have access to an International Baccalaureate curriculum and lots of options. Instead, she says her son's test scores have dropped.
Another parent at the welcoming school says now that the school has more students, Mollison isn't what it used to be.
"So now you're dealing with kids struggling. Kids are struggling with the fact that they've been moved from their comfort zone," said parent Yolanda Redman. "There's a lot of pushback. Kids are rejecting that they have to start all over, meet new teachers, meet new friends, meet new staff. The first year, the kids fought a lot. Even now, in the classrooms, my child complains all the time about the fact that the teachers are dealing with so much behavior issues in the class that they are not getting enough learning time."
I did speak with another parent whose children attended the shuttered Pope Elementary School in North Lawndale. She did know that she had the option to reach out to CPS and find a different school for her children. She found one well outside of her attendance boundaries at McCutcheon Elementary in the Uptown neighborhood, a Level 1 school.
So now, she and her children make the long bus ride every day from North Lawndale to Uptown, so her kids can attend a better school.
CPS sent the following statement from CEO Barbara Byrd-Bennett:
"The CCSR Report demonstrates that we kept its promises and upheld our commitments to our students and school communities. The good news is that students are doing better academically, attendance rates are up and rates of misconduct have decreased. These results are based on the strategic, thoughtful, coordinated approach we took to managing the transition process."
We also heard from the Chicago Teachers Union on this. Vice President Jesse Sharkey says the mayor and the Board of Education are trying to spin the fact that school closings actually hurt students. Read CTU's full statement here.