Geoffrey Baer gets the cold, hard truth on why the Chicago River doesn't freeze over even during Chicago's bitter winters and more in this week's edition of Ask Geoffrey.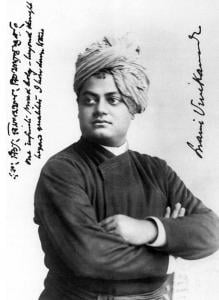 I'm sure you get questions about 'honorary ways' all the time. Is there a database of explanation of who these people are? -- Ben Laskov, Logan Square
If you told a friend to meet you at the corner of Madison Street and Swami Vivekananda Way, she would probably think you lost your mind. But, if you look at the brown street sign in front of The Art Institute on Michigan Avenue, there it is: Honorary Swami Vivekananda Way.
The honorary street name program has been in place since 1964, according to the Chicago Tribune, when a stretch of LaSalle Street was designated "The Golden Mile" to honor the city's financial institutions. Before that, Chicago often honored people and institutions by naming streets after them. After a while, though, the city's administration realized that changing a street's official name is a lot of work – maps and mail need to be updated, not to mention Chicagoans' minds. After all, who calls it the Willis Tower or Macy's even all these years later? So these brown signs mounted above the official green street signs were created as a way to pay tribute to people, institutions, and communities without having to go through all the administrative rigmarole.
The honorary street name process is pretty simple – aldermen propose an ordinance and the City Council votes on it. Usually the City Council approves the ordinance, and it's officially entered into the legislation. So, if you want to look up the origins of an honorary street name, you can search for the ordinance on the city's legislative lookup site. If you just want to browse honorary street names, there is unfortunately no official city database of them currently. We did find this great Tumblr called Honorary Ave. The author, Grant Crusor, is a native south sider who posts photos of honorary street signs and links to the stories behind the names.
According to the Chicago Department of Transportation, today there are about 1,500 honorary street signs all over the city – sometimes more than one honorary name to a street! Here are a few of our favorites: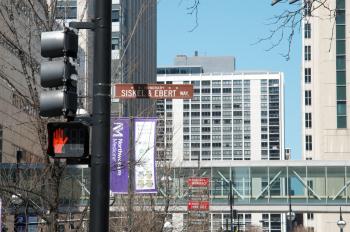 And there are a few honorary street signs that are especially close to our hearts here at WTTW and WFMT.
Siskel and Ebert Way was designated at the corner of Erie and McClurg to give everyone's favorite movie critics two thumbs up.
Studs Terkel Bridge over the North Branch at Division honors the legendary author and WFMT radio personality.
And of course, right at our front door on Balmoral and St. Louis is Honorary WTTW Way.
One last note: our viewer Ben mentioned an honorary sign near his home, "Bruiser and Tommy Two-Guns Way" on St. Louis and Lyndale. Ben wondered who it was intended to honor – he did a little Googling and only turned up a New York gangster, which seemed like an unlikely honoree for a Chicago street. Our own research came up equally empty, so we consulted the city's records and the Chicago Department of Transportation. It turns out that the sign was counterfeit! CDOT crews removed the sign shortly after discovering it was a fake. Our CDOT contact said this was the first instance of a counterfeit sign any of his crew had come across.
I have several medals and cups that my father won in the Chicago Silver Skates competition. Is there any way to look up winners of the Silver Skates by year? -- Verne Farrell, Park Ridge
The Silver Skates derbies were enormously popular speed skating races that were sponsored by the Chicago Tribune between 1917 and 1974. A version of the races continues in Chicago to this day.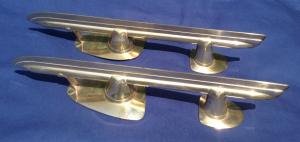 In the 1880s, as Scandinavians began to populate the Humboldt Park neighborhood, they brought their love for winter sports, like ice skating, with them. Pretty soon, the frozen lagoons of Humboldt Park were a hotspot for ice skating in Chicago. The Chicago Tribune took notice of the burgeoning sport and sponsored the first Silver Skates derby at Humboldt Park in 1917. The prize for first place was – you guessed it – a pair of solid silver skates. Glen Ellyn Skating Club sent us photos of a pair of silver skates won by Shirley Jane Burnett in 1938 – you can see more at their Facebook page (and find out about their own speed skating races.)
For the first race, any man with a pair of skates could come to the park and compete. Later, skaters from anywhere in the country could enter the race, but only Chicagoans were allowed to enter free of charge. And soon, boys', women's, and girls' divisions were added in following years. Thousands of skating fans would flock to the races – and of course those who couldn't attend could read all about it in the next day's Tribune.
There's no database of winners, but you can easily find them by searching articles in the Chicago Tribune's historical archives. (Tribune subscribers and Chicago Public Library card holders can access the advanced search.) We weren't able to find too much about our viewer's father Vernon Hoos, but we did find a mention of him ranked among the state's top skaters in 1924.
The Silver Skates derbies quickly became the marquee sporting event of winter. By 1923, Chicago was home to more than 600 outdoor rinks and became known for producing champion speed skaters like Art Staff, Harry Kaad, and Eddie Schroeder.
The home video of the 1948 Silver Skates competition below comes to us courtesy of Harry Johnson, who went on to win the Skates in 1950 and 1951.
The viewer also mentioned barrel jumping, where skaters would gather speed around the track and then leap over rows of barrels laid on the ice – the best jumpers would hop 15 or 16! Barrel jumping wasn't an official part of the Silver Skates competitions, but it became a popular stunt with the more daring skaters, and in 1950 the World Barrel Jumping Championship was started as a separate event.
The Tribune ended their sponsorship of the Silver Skates derbies in 1974, but the city brought the competition back the following year, rebranded as "Mayor Daley's Silver Skates". And now, the Chicago Park District hosts Silver Skates speedskating competitions at parks around the city.
A few of us in our office were wondering why the Chicago River is not completely frozen over. Parts of it seem to be, but the area around Wolf Point is completely ice-free...is it really water in the Chicago River? -- Edward Embach, Edgewater
We actually received this question during last year's deep freeze, but we never got to it so we filed it away secure in the knowledge that arctic temperatures would return. There are a few reasons why the river doesn't freeze over completely, but perhaps the most surprising one came to us from a University of Chicago geophysical sciences professor named Douglas MacAyeal, and it has to do with how water freezes.
We all know that water freezes at 32 degrees Fahrenheit. But water reaches its maximum density at about 39 degrees. This means as the water at the top reaches 39 degrees, it sinks and is displaced by the warmer water underneath it. The whole river has to get to 39 degrees before the water on the surface can even begin freezing and that takes a sustained period of cold weather. Now combine this with the fact that we reversed the flow of the river in 1900, so water from Lake Michigan is constantly flowing into the river. So the water in the river is constantly being replenished by lake water, and since the lake is bigger, its water takes much longer to cool off.
Maybe the yuckiest reason the river doesn't freeze right away is that a lot of the water in the river is actually cleaned sewage discharged from wastewater treatment plants along the river. The Metropolitan Water Reclamation District says this cleaned effluent is between 40 and 55 degrees, which of course warms up the river. And another factor: many riverfront buildings also discharge warm water into the river from their heating and cooling systems. Check out this time-lapse video taken by Cori Diller-Dante from the 1 East Wacker building to see the not-quite-frozen river in action:
One last thing: while we hope we never see the main branch of the Chicago River freeze over, there are parts of the North and South Branches that come pretty close when there's a cold snap. The video below shows an icy section of the North Branch near our studios. Looks like a thaw can't come soon enough!