The shooting massacre at the Paris office of the satirical newspaper Charlie Hebdo has shaken the tenets of not only parody, but freedom of expression. Scott Dikkers is the founding editor of The Onion and served as editor-in-chief of the popular satirical news organization for 14 years. He joins us to discuss his experiences working in news satire, and how the deadliest attack France has seen since 1961 may affect the genre's landscape.
Read an interview with Dikkers.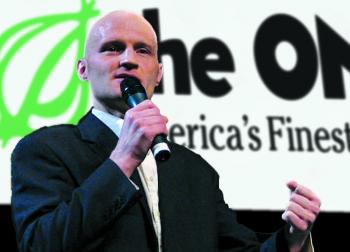 What was your reaction to the shooting at Charlie Hebdo?
Similar to my reaction whenever there is a mass shooting anywhere – sickening, sad and horrifying. There was a slight tinge that this hits close to home because they're satirists like me. It's a human tragedy. Whenever people are mowed down by other people with guns, it's a terrible thing.
Do you think this act will have further implications on the work of satirists? How about the work of journalists as a whole?
It won't have any effect on me or the satirists that I know because I know us and we say what we think. It's our responsibility in society to do that. The people at Charlie Hebdo didn't change what they did when they were firebombed. It will have no effect – satirists will write satire and you can't squash that.
When you were at The Onion, did you ever publish content that could be considered incendiary?
In the early years, we were younger and crazier and it gave us a bit of a thrill to get a reaction from the stuff that we were writing. We've always gotten angry letters and threats. Sometimes the threats cross the line and end up being creepy, and we need to watch our back/call the police. For The Onion, that's the worst that it got.
There were some stories where we went after the troops in ill-considered ways and there was a particular ex-military guy who rallied against us.
We used to mock Christianity quite a bit. Much like in Islam elsewhere in the world, we have Christian extremists here that do terrible things. We had a guy who was big into the anti-abortion movement. We did holiday cards that had the Easter bunny on the crucifix. He made several death threats and he actually came by the office one day. He had a crazy vibe and was unhinged, and I managed to talk him down and tell him that "you're welcome to start your own publication and write what you want to write." And he did! He passed out handmade propaganda outside saying that our editors should be killed. We got a restraining order against him after that.
Did the paper prepare for reactions or situations similar to what happened in Paris?
No. Until recently, we never thought about security. When you're young and writing comedy, you never think that people in parts of the world will take offense to it, hold it against you and kill you. You can't think of that small sliver of the population and let them decide how you live. We don't give that much thought.
Do you think that satirists or journalists should steer clear of provocative depictions of holy symbols? Do you think there's a line that should not be crossed?
That would be a tragedy in my mind if they did. They should do it more. The more satirists do, the more we get desensitized to these subjects, and the more that we can accept it into the humor culture. A lot of people feel that way; I definitely do. I love it when humor goes too far – that's the good stuff. If everybody was censored, we'd be letting these extremists censor us, which would be a tragedy.
Satire is something that I need to do – it's how I've made my living and who I am. It rubs me the wrong way when someone says, "Oh, maybe you shouldn't do that, maybe you should become a carpenter." Satirists represent a very important part of our society; they keep us sane and remind us to have a sense of humor.
Did The Onion ever pull a story or image because of backlash?
Not really. The response was generally more intellectual – threatening to sue. The only time we did pull it was due to a Michael Bay article that we were contacted about because our lawyer thought that we could actually get sued. If it's a great piece of work though, we won't pull it.
Do you think satirists/journalists will be silenced?
Not too many people were doing work as edgy as Charlie Hebdo was. I don't think they will be. They will survive as a publication – this will do nothing but help them.
Interview has been condensed and edited.