Despite another lackluster first half performance, the Bears managed to beat Lovie Smith's Buccaneers 21-13 on Sunday at Soldier Field. The defense continued to show improvement, generating four takeaways, which led to 14 points. It was Smith's first return to Soldier Field since being fired by the Bears. But the hoopla surrounding his homecoming fizzled, as his 2-9 Bucs limped back to Tampa in the NFC South cellar. Bears veteran linebacker Lance Briggs left the game with a groin injury, while rookie cornerback Kyle Fuller suffered a knee injury. Their availability to play Thursday in Detroit is uncertain. James "Big Cat" Williams recaps the defense's four takeaways, and Jay Cutler's interception-free performance.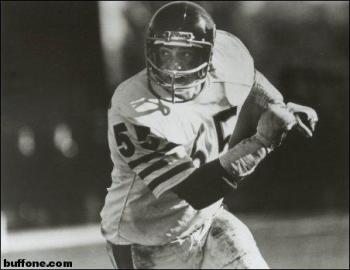 Doug Buffone, former Chicago Bears linebacker (1966-1979), offers his take on the Bears' win.
Why do you think the Bears consistently look flat in the first half, no matter how good – or bad - the opponent?
If you take a look at the last six games, the Bears have not scored one point in the first quarter. That's got to be scary as hell. They script the first drive, the first series. So it has to be coaching. Second, they do stupid things: dropped footballs, penalties. But it's got to go deeper than that. A lot has to do with the coaches. Any time you can't score in six games, the game plan has to be part of that.
Cutler said they challenged each other at halftime. How much difference can a halftime speech make?
It can be effective when you start out slow like the Bears. But first thing, don't get to that point! Don't feel like you have to juice everyone up at halftime. Waiting until halftime to have a "Kum Ba Yah moment", that can't wait until halftime.
The defense generated four takeaways. What did you see from the defense that gave you hope it's an improved unit?
Let's face the facts: Tampa Bay is a bad team. But you still have to perform. The defensive line put pressure on the quarterback. That is a big difference. They need to keep that going even when the competition isn't strong. I don't want to take anything away from them. I think they're improving, the defensive line IS improving.
Lance Briggs left the game with a groin injury. He's already missed three games with a rib injury. Do you think that's the last time we see Briggs walking off Soldier Field?
It may be. It's the toughest part of being a ball player. I can remember myself after 14 years. An injury here, an injury there. I think it's time to go. I think this year is shot; I think they should take a look at a young linebacker and see what they have.
Lovie Smith and Josh McCown returned to soldier field. How big of a deal was that?
The Bears were supposed to win this game. If Lovie had won, and Josh had won, it would be a big deal. But the Bears won, like they were supposed to, so that storyline is dead.
Any special memories of playing on Thanksgiving?
It kind of screws everything up with your family, with the kids. I wasn't a big proponent of playing on Thanksgiving. But hey, it's your job, so you do it, just like everyone else who has certain things about their jobs that they don't like.
NFL players are creatures of habit. How different is it for the Bears' next three games to be on Thursday, Thursday, and then Monday?
That's odd. Players develop certain ways we do things. We put our socks on a certain way. I always had this thing – (Dick) Butkus and I would get to the game early, two hours early. Everything gets wobbly (with a non-Sunday game). To me, that's a big thing. You can't really get your mind on what's going on for the next game. I don't believe in Thursday games. They're just too hard on football players.