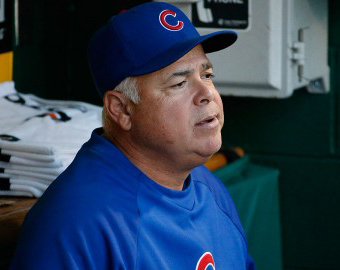 The Chicago Cubs announced Friday the team would move forward without manager Rick Renteria. After spending less than a year in the position, the club decided to replace Renteria in hopes of recruiting a notable free agent.
Renteria joined the team at the end of the 2013 season after the team fired former manager Dale Sveum. The team had previously announced that Renteria would be back to manage the team in 2015.  The organization decided to part ways with Renteria after former Tampa Bay Rays manager Joe Maddon decided to opt out of his contract with the Rays last week.
"Last Thursday, we learned that Joe Maddon – who may be as well suited as anyone in the industry to manage the challenges that lie ahead of us – had become a free agent," said Cubs President Theo Epstein in a statement. "In this business of trying to win a world championship for the first time in 107 years, the organization has priority over any one individual. We decided to pursue Joe."
Maddon spent nine seasons managing the Rays. He opted out of his contract in Tampa Bay after Rays General Manager Andrew Friedman left to take the same job with the Los Angeles Dodgers. Under Maddon, the Rays went from one of the worst teams in baseball in 2005 to the World Series in 2008. His teams made the playoffs four times. Maddon was named the American League Manager of the Year in 2008 and 2011. Late Friday afternoon, the team scheduled a Monday news conference to introduce Maddon as its new manager.  
"We saw it as a unique opportunity and faced a clear dilemma: be loyal to Rick or be loyal to the organization," Epstein said. "[An important ideal] is to always be loyal to our mission of building the Cubs into a championship organization that can sustain success."
The team has offered to keep Renteria on staff in other positions with the Cubs but will also allow him to leave the organization and pursue opportunities elsewhere. Prior to joining the Cubs, he coached and managed the Miami Marlins and the San Diego Padres.