For the first time in 10 years—and only the second time ever—Lyric Opera of Chicago is opening up its closets and putting more than 3,000 costumes used in dozens of operas up for sale.
The costumes come from celebrated productions of "Don Giovanni," "A Masked Ball," "The Ring cycle," "The Flying Dutchman," "Die Fledermaus," and many other operas and can be had for a bargain: from $1 to $200. The sale takes place this Saturday, Sept. 6, from 9:00 am - 6:00 pm at the opera house, 20 N. Wacker Drive, but we give you a preview Thursday on Chicago Tonight.
---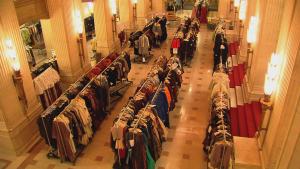 It's a trunk show like no other. Hundreds of mostly one of a kind dresses, jackets, doubloons, and Teutonic warrior outfits. Some might be suitable for a night on the town. Others only if you want to look like a clown. They are all costumes once used on the stage at Lyric Opera of Chicago and now they can be yours for a steal.
For anyone who's ever attended a performance at Lyric Opera of Chicago and wished they could be onstage but lacked the necessary talent, there's still a way to become an operatic star--or rather, look like one. For only the second time in its 60 year history, Lyric Opera is having a liquidation sale of its sizeable costume collection. It's mainly the result of a lack of storage space.
"Seeing that we're in the city, we can't keep expanding and buy or rent new space, so we need to keep the costumes within the space that we have,"  said Maureen Reilly, Lyric Opera of Chicago costume director. "Many of the productions that we have are no longer in our rep which means that they're not part of our opera season, and we have not needed to use those costumes for the past 20 or 30 years."
Around 3,000 costumes are up for grabs; all suitable for an upcoming Halloween party or to collect as a unique memento. Most all the outfits have been used by chorus members or actors, but a few may have been used by big stars. Lyric Opera's costume director who's been with the company for 30 years says it's sometimes hard to tell who may have worn what. And the labels on the costume may not reveal its glorious history.
"If we have a production—let's say for example 'Barber of Seville,' we might sell the entire production; we mean the set, costume, props to another opera company. But these, maybe the sets are no longer in existence or the costumes have been broken up into, like they're not a complete set anymore, and that's why we're not selling them to them. Plus, the logistics of finding a company that wants it, them having the money to purchase it, and ship it to them wherever it is could be costly."
Watch Chicago Tonight's story about the first Lyric Opera costume sale.
Some of the costumes for sale pre-date the founding of Lyric Opera of Chicago in 1954. This fetching outfit for example is thought to have come from the 1930s and a production of "Don Giovanni" from what was then called the Chicago Civic Opera Company.
But if you're looking to nab a costume worn by one of the superstars of Lyric Opera's early years, such as Maria Callas or Leontyne Price, don't hold your breath.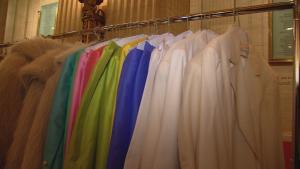 "Up until the 1970s, which really wasn't all that long ago, opera singers still brought their own costumes with them, especially the lead principal artists," Reilly said. "If they did 'Aida' all the time, and they had a costume that they liked, they would purchase it and carry it with them, so every time they went to do 'Aida.' They would say I have my own costume. Eventually, artistically, things have changed, and there's a whole cohesive idea about a production so people someone can't bring in their costume; it needs to match everything. Again, going back to that, that's why we don't have a lot of the famous older names because those people brought trunks with their own costumes in them."
Over the last 30 years most of the costumes used in Lyric Opera productions have been created by European companies. The 10 to 20 costumers at Lyric focus on maintaining the finished products and adjusting them to fit the expanding or contracting sizes of its cast members. 
Costume shoppers might be surprised to discover the incredible amount of detail and craftsman ship that goes into many of these costumes like this one from a 2007 production of Richard Staruss's "Die Frau ohne Schatten."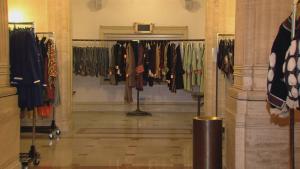 As for the prices, they start at just $1. But that selection is limited. The more substantial stuff will go from around $10 to $200.
"Truthfully, these are really great deals because if you went to a Halloween costume store, you couldn't find something like this," Reilly said. "The fabric alone is probably worth, you know at least $1,000, and dresses that we're selling for $100 [and] $150, to replace them today would between anywhere from $3,000 to $4,000."
Lyric Opera held its first costume sale 10 years ago clearing out costumes that were housed in a South Side warehouse that was sold. Whether this second offering will be the last for another 10 years or forever opera officials can't say. But it's best not to wait until the fat lady sings if you want to secure a little piece of operatic history.