African music, bright colored fabrics, handcrafted art, and authentic African cuisine will all be on display this weekend at the largest neighborhood festival in Chicago in Washington Park. Each year the festival brings African culture to the city's South Side to celebrate and educate the public on the shared cultures of people of African ancestry. Patrick Woodtor, founder and executive director of Africa International House, Inc., stops by Chicago Tonight to discuss the festival's history, its plans for the future and more.
---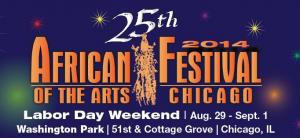 Washington Park will be filled with the cultural sights, sounds, and tastes of Africa Friday, Aug. 29, through Monday, Sept. 1. The African Festival of the Arts celebrates its 25th anniversary with the theme of "Cultural Connection."
The festival will feature various vendors, artists, performers, authors, and much more. This weekend's event is expected to attract more than 300,000 people and is Chicago's largest neighborhood-festival. The festival is open daily from 10:00 am to 10:00 pm at Washington Park, located at 5100 S. Cottage Grove Ave. Admission is $10 in advance, $20 at the gate or $30 for a four-day weekend pass; $5 for seniors and children under 13.
View a slideshow of past African Festivals.
--Photos by Kymon Odukoya
View a slideshow of a drum performance on Chicago Tonight.
--Photos by Travis Cornejo