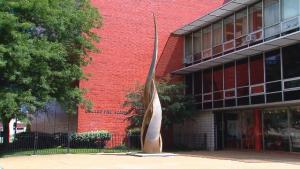 If you've ever marveled at the awesome 30-foot tall bronze flames in front of the Chicago Fire Academy, you know the work of Egon Weiner (pronounced VINE-er). Weiner's work can also be seen in Oak Park, at North Park University, and at the corner of Diversey and Sheridan.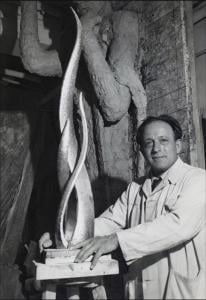 The Chicago artist and teacher is getting his due this summer in a small but wonderful exhibition at the Koehnline Museum of Art, a gallery-sized museum on the campus of Oakton Community College in Des Plaines.
The sculptural works and drawings in the show chart Egon Weiner's development in Austria and his maturation in Chicago. He arrived in the city after fleeing his country's annexation by Nazi Germany. Weiner's parents and brother did not escape.
The artist arrived in Chicago on a mission. He established a studio right away and taught at the School of the Art Institute for 26 years, where he was beloved for his optimism and energy. Weiner died in 1987 but his legacy lives on. One of his star pupils was the eminent Chicago sculptor Richard Hunt, whose work is also all over town.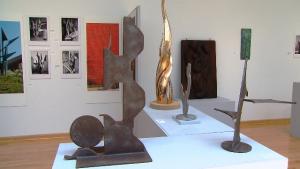 This exhibition features a genuine treasure – newly discovered works by the artist that had been gathering dust in a metal finishing factory in Elk Grove Village. The curator found them on the tip of another former student of Egon Weiner, Chicago sculptor Joseph Burlini. The 20 works had been stored there by the artist's estate, and now they're back on public view by arrangement with the family.
This isn't the first time curator Nathan Harpaz has found lost art. In 2000 he found a large body of work by the noted Chicago Hull House artist Morris Topchevsky. He found the paintings in the artist's brother's basement in Skokie and put them on display. The curator has also championed other lesser-known but memorable Chicago artists, including Gregory Orloff and Leon and Sadie Garland.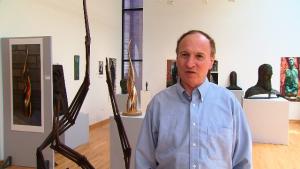 His latest show is called Egon Weiner: Pillar of Human Emotions, and it's at the Koehnline Museum of Art until September 19th.  Here's a preview we did recently on Chicago Tonight in partnership with the Terra Foundation for American Art.