The annual Chicago Korean Festival, a bubble workshop for children, and a celebration of Japanese culture; Chicago Tonight knows what's going on this weekend.
---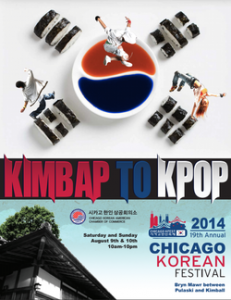 19th Annual Chicago Korean Festival
Hosted by the Chicago Korean American Chamber of Commerce, enjoy a celebration of Korean culture. Visitors can take home their own handcrafted batch of Kimchi at the Kimchi Workshops. The festival will include singing contests, B-boy/B-girl battle, K-pop Dance off, and more. The festival will be held 10:00 am-10:00 pm Saturday and Sunday on Bryn Mawr Avenue between Kedzie and Kimball. Due to budget constraints the festival has been scaled back this year; visitors can make a donation.
Bryn Mawr Avenue between Kedzie and Kimball
Chicago IL, 60659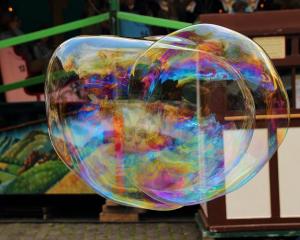 Bubble Works Returns Again
Children and families can enjoy an abundance of bubble activities, including giant bubbles, tiny bubbles, bubble walls and painting with bubbles at this special two-day event. Participants will also be able to learn about the science of water with several kid friendly activities. The event is open this Saturday and Sunday at the Wonder Works Children's Museum, and the cost is $6 per person.
Wonder Works Children's Museum
6445 W. North Avenue
Oak Park, IL 60302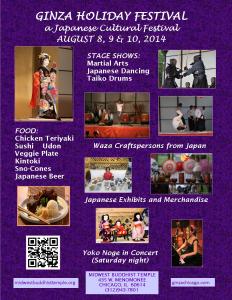 59th Annual Ginza Holiday Festival
Immerse yourself in Japanese culture at the annual Ginza Holiday Festival in Old Town. The festival begins at 5:30 pm on Friday and runs through Sunday. Live dance and drum performances will be performed throughout the weekend, and there will be exhibits featuring bonsai, calligraphy, and samurai swords.  Traditional Japanese food, including chicken teriyaki, udon, sushi, and edamame will be available as well as Japanese beer and desserts. The festival will be held at the Midwest Buddhist Temple and the chapel will be open for those who want to learn more about Buddhism.  The event is free for children under the age of 12; a donation of $7 is suggested for adults and $6 for students and seniors.
Midwest Buddhist Temple
435 W. Menomonee St
Chicago IL, 60614

Retro on Roscoe 
Step back in time this Saturday and Sunday in Roscoe Village at the Retro on Roscoe festival.  Visitors can see more than 50 types of antique, classic, and muscle cars and motorcycles. Three stages will fill the six-block neighborhood with live oldies music. Antique vendors will display their merchandise along the street, and children can keep themselves entertained with arts and crafts, rides, and face painting.  A $10 donation is suggested.
Roscoe Village
2000 W. Roscoe St.
Chicago, IL 60618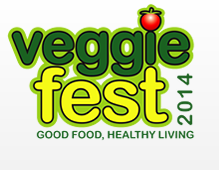 Veggie Fest
Learn a little bit more about healthy living at the Veggie Fest in Naperville this weekend. The event features an international food court, demonstrations by local chefs and restaurant owners, and a food drive. Several health professionals will give talks on diets, lifestyles, and the environment. This free festival will also have live music, face painting, clowns and crafts. 
Science of Spirituality Meditation Center
4S 175 Naperville-Wheaton Rd
Naperville, IL 60563