The largest Ebola virus outbreak in history is plaguing the western coast of Africa as one American doctor returns home for treatment. With more than 4,000 infected, international organizations are stepping up their response and aid to the affected countries. How did the outbreak get so out of hand? Is there risk of outbreaks in other nations? We discuss this with Dr. Jeremy Young, assistant professor of medicine at the University of Illinois  and associate director of the Infectious Disease Fellowship Program, and Dr. Stephanie Black, medical director for the Communicable Disease Program at the Chicago Department of Public Health.
---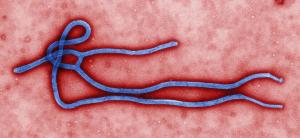 Ebola Virus Disease
Ebola virus disease is a severe often fatal illness. Fruit bats are considered a possible natural host of the virus, and outbreaks usually occur in remote villages in Central and West Africa near tropical rainforests. The virus is transmitted through contact with the blood, tissues or body fluids of infected people or animals. In Africa, infection has been documented through the handling of infected chimpanzees, gorillas, fruit bats, monkeys, forest antelope and porcupines, according to the World Health Organization.
Symptoms: A sudden fever, muscle pain, weakness, headaches and a sore throat are early symptoms. These are usually followed by vomiting, kidney and liver problems, diarrhea, rashes, and in some cases both internal and external bleeding. Lab findings include low white blood cell and platelet count and elevated liver enzymes. Incubation period is 2 to 21 days. Ebola virus infections can be diagnosed in a lab through several types of tests.
Treatment: Currently, there are no vaccines available for Ebola, although several are being tested and evaluated.  Ebola outbreaks have a case fatality rate of up to 90 percent, and if an outbreak occurs the infected person or animal should be quarantined to reduce the risk of spreading the disease. Ebola virus patients are usually very dehydrated and require intensive care.  
Watch a World Health Organization video on the 2014 outbreak of the Ebola virus in Guinea. 
Touch the red dots in the image below to learn more about the Ebola virus in Guinea, Liberia, and Sierra Leone.
--Information from the Centers for Disease Control and Prevention.