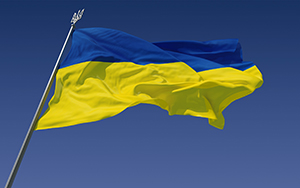 Ukrainian and Malaysian officials as well as Ukrainian separatists claim that the bodies and parts of all 298 victims were returned from the Malaysia Airlines Flight 17, which a missile destroyed last week. The separatists also handed over black boxes containing flight data recorders on Monday. More than half of the victims were Dutch passengers with one passenger being Dutch-American. The Netherlands and other countries involved have expressed anger at the delay of returning the bodies and possible tampering of evidence on the site.
Meanwhile, the European Union froze assets of additional Russian groups and individuals to encourage Moscow to push the separatists for access to the crash site. The EU also threatened to impose economic sanctions. The U.S. has already sanctioned officials close to Russian President Vladimir Putin.
We look at the latest events in Ukraine. Ivo Daalder, president of the Chicago Council on Global Affairs and prior U.S. Permanent Representative to NATO, joins us to talk about international security and Robert Pape, political science professor and expert on Russia and Ukraine at the University of Chicago, updates us on the rising political tensions. Also joining the discussion is David Greenberg, president of Compass Group, an airline operations consulting firm. He previously served in top operations positions with Delta Airlines and Korean Air.
A vigil for the victims of MH17 will be held Thursday, July 24, from 6:30 pm to 7:30 pm at IIT's College of Architecture Crown Hall, 3360 S. State St. All are welcome to commemorate the victims and express sympathy for them as well as their family, friends, and colleagues. The Netherlands Consul General Klaas van der Tempel, Dutch Club Chicago President Marcel Dubois, Caroline van Klingeren of the Tul(i)p School, and Andrew Enschedé, director of the Chicago chapter of The Netherlands-America Foundation, will speak at the vigil. The Dutch American Chamber of Commerce will also be involved in the vigil.