Chicago's Pocket Con convention is set to spotlight black characters in comic books and works from black artists. We talk with the convention's host Elgin Bokari and presenter Ashley Woods about the impact of minority lead superheroes in comics and the need for more African American comic book artists.
---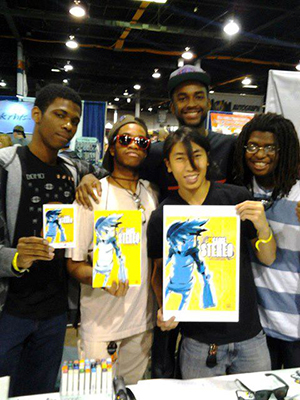 Read an interview with local comic book artist and Pocket Con attendee, Steven Scott.
Q: What is PocketCon?
Pocket Con is a local comic book convention in Chicago that is centered around African-American and minority creators and gear toward young adults. 
Q: How was your experience at Pocket Con last year?
 I enjoyed it a lot. I had the chance to talk to a lot of other independent creators that came. It was a lot of fun.
Q: How does Pocket Con compare to other comic conventions?
Pocket Con is a lot more intimate but their special guests are just as big as any comic celebrity that would be at any major convention. Pocket Con's target audience is more young adults. All of the events there are centered toward them. Other conventions might have more events for a younger audience.
Q: You've also started your own comic, "12 Gauge Stereo." What inspired you to create a comic?
This show I watched when I was younger called "FLCL."  It was amazing and sparked this creativity in me that made me want to create. Comics just seemed like the easiest medium.
Q: What's "12 Gauge Stereo" about?
It was a book about a group of people, who on the surface seem vastly different from one another and end up getting not-so-typical super powers from some aliens.
Q: What comics and/or comic artists inspire you?
LeSean Thomas has been a huge inspiration to me. The amount of passion he has shown toward his work is amazing. He has worked insanely hard in the animation industry. He made a lot of tough choices that I think others would shy away from, but at the end of the day, he became a huge success in the animation industry. 
Interview has been edited and condensed.