Navy Pier attracts between 8-9 million visitors each year, but traffic drops as temperatures do in the winter. The non-profit that runs Navy Pier wants to add a hotel to attract visitors year-round. Crain's Chicago Business reporter Micah Maidenberg discusses the proposal with Chicago Tonight host Phil Ponce.
---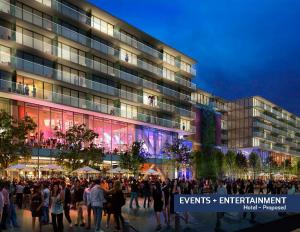 The non-profit will seek proposals from real estate firms to develop a hotel with as many as 225 rooms above an existing two-tiered dining and entertainment venue. The proposed hotel would be operated and run by private developers, and would be located near Festival Hall on the pier's east end.
If built, the hotel will compete with other upcoming hotel developments in downtown. The proposed hotel is part of a larger plan which includes examining dining and retail attractions at Navy Pier. The City Council would have to approve an amendment to the zoning plan that controls development at the property in order for a hotel to be built.
Navy Pier is in the midst of a modernization project that started last September. Part of the modernization is funded by a $115 million bond fund from the Metropolitan Pier and Exposition Authority.