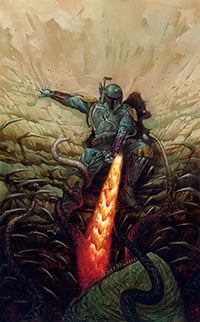 Dave Dorman was an 18-year-old with a love for comic book illustration when he walked into a movie theater and saw "Star Wars" for the first time in 1977. He identified strongly with Luke Skywalker and never dreamed the movie's director, George Lucas, would eventually own his art. Dorman grew up to be a professional illustrator and artist, doing covers for books and comics featuring Batman, G.I. Joe, characters from the "Aliens" films, and more.
But it was a book that needed artwork of Indiana Jones that started Dorman on his association with Lucasfilm and ultimately the "Star Wars" universe. In 1998, readers of The Official Best of Star Wars Magazine voted Dorman the "Best Star Wars Artist."
Dorman has met George Lucas a number of times and Lucas owns dozens of Dorman's original oil paintings that were reproduced in print. He is hoping Lucas will include some of his artwork in the proposed Lucas Museum of Narrative Art.    
View a slideshow of illustrations by Dave Dorman.
Images courtesy of Dave Dorman.