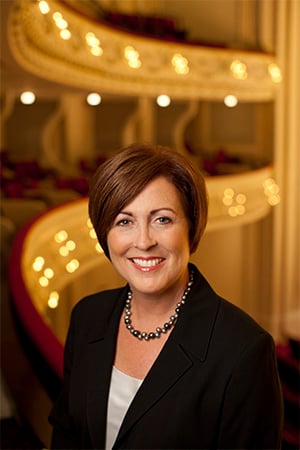 When Deborah Rutter, then Deborah Card, came to Chicago from Seattle to become President of the Chicago Symphony Orchestra Association in 2003, she left behind the legacy of having overseen the design and construction of the Seattle Symphony Benaroya Hall.  
Ahead of her was the departure of the CSO's music director Daniel Barenboim, a strike by CSO players, and a terrible recession that impacted all aspects of the economy, including arts funding. As she prepares to depart Chicago in order to lead the John F. Kennedy Center for the Performing Arts in Washington, D.C., she can say she helped the CSO weather those storms and more. The players settled the strike, the CSO is in very good shape financially, and the artistic leadership is in good hands. 
Rutter lured Italian conductor Riccardo Muti to the city to become its Music Director, having covered the years in between Barenboim's departure and Muti's appointment with an excellent run at the podium by Dutch conductor Bernard Haitink.  And the CSO has strengthened its relationship with the broader community in Chicago, giving concerts in local high schools, holding master classes in neighborhood locations and expanding its summer appearances beyond Ravinia to include concerts at the Morton Arboretum in Lisle.
We talk with Rutter about how she managed to keep one of the world's greatest musical organizations moving forward. View a timeline of the CSO to learn more about its history.