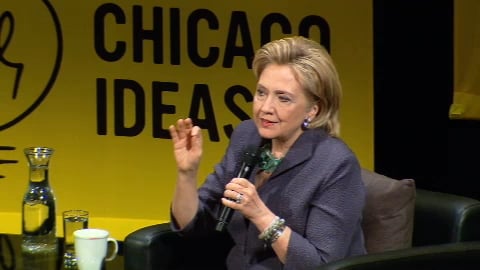 Former Secretary of State Hillary Clinton is just kicking off her book tour, promoting her memoir "Hard Choices" about her time at the U.S. State Department. This morning she appeared in Chicago with Mayor Rahm Emanuel at an event that felt to many like the ramp-up to a national campaign. 
Emanuel probed Clinton on a variety of domestic and foreign policy topics, as well as politics, giving the feeling she was laying out her agenda as much as promoting a book. However, Emanuel did not ask Clinton when she would make a decision about whether to run for president in 2016. Also unanswered was whether or not there would be a role for her former colleague, Rahm Emanuel, in a potential Hillary Clinton White House.
The Clinton and Emanuel discussion was part of Chicago Ideas Week, an event curated by Groupon cofounder Brad Keywell.