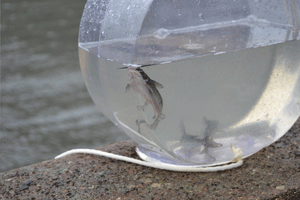 The Illinois Department of Natural Resources and Friends of the Chicago River are releasing the one-year-old catfish into two sites along the Chicago River to continue its revitalization. In downtown Chicago, 10,000 catfish are being released, and another 20,000 are being released into the Little Calumet River near Blue Island.
The release begins a habitat restoration project under a $300,000 grant from the National Fish and Wildlife Foundation's Chi-Cal Rivers Fund. Brandis Friedman has more on how the project works, and also takes a look at Senate Bill 2727 recently signed by Gov. Pat Quinn phasing out the sale of cosmetic products and soaps containing microbeads.
---
It was an incredible sight to see; 30,000 catfish were poured into the Chicago River today for a new life. This is part of the habitat restoration project led by Friends of the Chicago River and the Illinois Department of Natural Resources.
The project will release a total of 100,000 channel catfish over the next 18 months in an effort to repopulate Chicago with this native species of fish. The project was given a $300,000 grant from the National Fish and Wildlife Foundation.
So why catfish?
Margaret Frisbie, executive director of Friends of the Chicago River, said that not only are catfish a tolerant species, that may survive the imperfect water quality of the river, but they also are a native species to Chicago and popular to fishermen.  
More environmental efforts came to Illinois on Sunday, June 8,  when Gov. Pat Quinn signed legislation to ban microbeads, which are sometimes found in cosmetics and other products.
However, Senate Bill 2727 won't be implemented soon. The new law will ban the manufacturing of microbeads by the end of 2018 and the sale of products containing microbeads by 2019.
"With Illinois being the first state, I think others will follow us and take our lead. Hopefully with legislation that bans it even quicker than ours does,"Jennifer Walling, executive director of the Illinois Environmental Council, said.
View a slideshow of catfish release event.