Small digital billboards are making a comeback in Chicago neighborhoods. This after the City Council passed a new law last month allowing for their return. Chicago Tonight first reported on the electronic signs last year. Seems they were sprouting up everywhere causing an outcry from residents and some aldermen. Does the new law protect residents' quality of life or is Chicago destined to become a city inundated with these electric signs?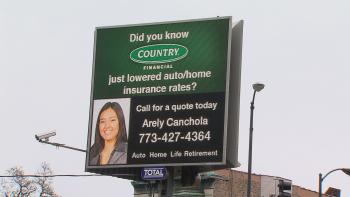 Last year, 100-foot electronic LED display signs were popping up throughout Chicago neighborhoods, some going up without permits. The city had no way to regulate where they could go, prompting fears that Chicago was fast turning into the Las Vegas of the Midwest. Some nearby building owners complained that it was hurting their property values.
"Basically it's an eyesore for one, two no notice when it went up, the neighbors just put it up, no communication whatsoever," says Wicker Park Property Manager Justin Vanderheyden." Also, it affects (tenants) everyday life. They can see it from their windows at night, it's pretty bright." 
The 100-foot billboards are different than the giant ones the mayor has authorized along city expressways in which the city gets a cut of the revenue. Building owners that choose to lease their walls for the smaller billboards see all of the revenue. One building owner at the corner of Armitage and Damen in the Bucktown neighborhood sees nearly $6,000 per year from its billboard.
After complaints from several aldermen and attempts to outlaw them, Mayor Emanuel decided to put a moratorium on any new electronic signs, last year.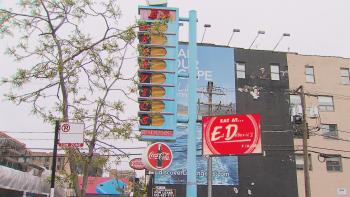 Chicago Buildings Commissioner Felicia Davis, who spent six months negotiating with sign companies and aldermen to come up with a set of rules says, "The moratorium was needed to give the city time to really control or address this influx of digital signs." 
"Overall, it's about how do we balance the needs of our residents with the needs of a thriving downtown booming economy, and our ordinance sits in the middle of the space to be able to do that," Davis says.
Under the new ordinance, the signs must be turned off between midnight and 5:00 am. They need to be less bright in general and smaller, no more than 64-square feet. And they should be more than 125 feet away from a residential area. But those that live above commercial storefronts are out of luck as their apartments sometimes fall within the 125-foot boundary.
"There's a long way to go to improve the quality of life issues," says 32nd Ward Ald. Scott Waguespack. He says despite the new restrictions, business clearly won this round.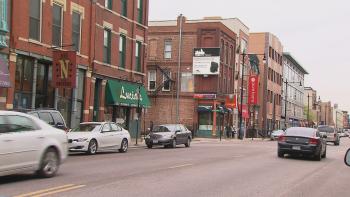 "We tried very hard under this mayor to get control of the billboards and to make this visual blights less prolific, and we got a lot of pushback from Mayor Emanuel, who believes that billboards are a way of the future."
The larger, more glaring digital signs that were put up before the moratorium get to stay up -- the ordinance grandfathers them in.
Also, another set of signs are exempt – the so called "On Premise" digital signs or a sign that advertises the businesses it is connected to. These types of signs can stay on 24-7.
For now, there are no restrictions on how many signs can go up across the city as long as they comply with the new city code. And the city also doesn't restrict what the billboards can advertise.
And the advertising companies that own these billboards are well connected. One of them, Total Outdoor, employed top Democratic Party lawyer Michael Kasper as a City Hall lobbyist. Another company, Digital Green Signs, was co-owned by GOP gubernatorial candidate Bruce Rauner. But Rauner has since said he is no longer involved in the company.
 
---
Related Links:
---