The Golden Apple Foundation recognized Lindblom Math & Science Academy Principal Alan Mather for his transformation of the West Englewood institution that was closed two years before his 2005 takeover. Mather is the recipient of the inaugural Stanley C. Golder Award for Principals and Heads of Schools. We chat with Mather about the school's turnaround, his vision for the future, and other issues concerning Chicago Public Schools. 
---
Mather, a native of southern Indiana, has been working in the Chicago Public Schools District since 1986, following his graduation from the University of Evansville. Mather worked as an English teacher, and track and cross country coach for 12 years before moving into administration after joining the Leadership Academy and Urban Network for Chicago. 
From 1998-2005, Mather was the assistant principal at Northside College Preparatory High School. In 2005, he was given the opportunity to takeover Lindblom Math & Science Academy, which had previously been a top-tier school but had declined and closed for two years. During his tenure, Lindblom has risen to rank among the Top 20 schools in the state. Under Mather's leadership, the school has built the largest Mandarin program in CPS and the largest non-heritage Arabic program in the country.
Below is an interview with Golden Apple Foundation CEO and President Dominic Belmonte:
Q: What prompted the Golden Apple Inaugural Stanley C. Golder Award for Principals and Heads of Schools?
Stan Golder was one of the original board members of Golden Apple. Upon Stanley's passing 17-18 years ago, a community service award in his name was started. In that time period, it was awarded to business leaders and some legislators – always those who had a stake in education firmly planted in the business community. It was just recently we decided to alter our award to recognize school leaders – principals and heads of schools.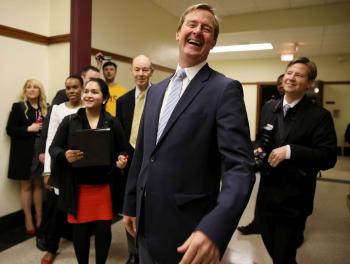 Q: How was Lindblom Math & Science Academy Principal Alan Mather selected?
This part is amusing. I set up a task force to create a protocol for future awarding. [The task force] was led by Gloria Harper, who is on my staff, and Cheryl Watkins, a Golden Apple fellow and past principal of a school recently closed known as Pershing West. I asked these two women to help set up a protocol for future awardees. I wanted a different structure than the Golden Apple awards where those who are nominated are invited to apply, submit an application and go through the application process of being vetted and then visited during the finalist stage. With the Golder award, I wanted it to be the opposite.
I want the possibility of nomination more like MacArthur [Fellows Program], like more in-house, more gathering in secret. I asked the task force to come up with protocols and when they were reporting to me, for each particular future protocol – support for teachers, working within the community, support of students, innovator within the school structure—all of these kinds of things, and they would say, "like Alan Mather does at Lindblom." It was so clear to us he was the prototypical example of a supportive principal, we decided to make him the inaugural recipient and for future recipients to be measured against Alan because his contributions are so singular in the transformation of the Lindblom community.
When I asked the committee to find examples, Alan came up each time. We didn't set out on this route. We were going to delay awarding it till next year, but it turns out by deliberations Alan is the perfect first choice, and we're delighted with the reception that's been received in the community. It's an indication of how beloved he is and how successful he's been.
Q: What does Mather receive as the recipient of this award?
He will receive $10,000 [of which] $2,000 is for his own personal professional development and $8,000 for a project of his choice for his school. I'm sure he has ideas aplenty for that. As modest as it may be, $8,000 is a good start to get a particular project enacted.
Q: What was it like to be part of the surprise announcement letting Mather know he won?
It was really well structured. When we decided upon Alan, a colleague, Gloria, worked with the assistant principal at Lindblom, and through him we were able to contact [Mather's] family and say, "This is something you should go see and be part of and keep a secret for two days." Through Eileen Rochford, we were able contact the mayor's office, and usually, the mayor is gracious enough to take one hour for one Golden Apple recipient. And he chose Alan because they had worked together before and he liked the idea of an inaugural award. 
Mather learns he is the Stanley C. Golder Award recipient:
The circumstances of the surprise were so wonderfully orchestrated; it was a happy accident [Lindblom] was having an award ceremony that day for Lindblom students who received scholarships, including Golden Apple scholars. It was a perfect ruse to have Alan up there. [Before presenting the award], the mayor and I were in a smaller room and he happened to notice a basket of apples – which we give to all Golden Apple recipients. The mayor looked at it and asked how much it cost, and I told him $129 a basket. I thought it was interesting that became part of his remarks to Alan, telling him through Alan's efforts they have some money for improvements to the school and here's $129 in apples, too. It was a really great moment because [Mather] was totally surprised it happened to him. The reaction from his family and those in the audience made it clear he was a great inaugural choice because of how deeply regarded he is and how deserving it seemed for him to receive the award.
Q: What will the selection process for this award be going forward?
There will be general areas of consideration in the future. We will be seeking nominations from the six county Chicago area we consider for teachers for the Golden Apple awards – Cook, Lake, DuPage, Will, Kane and McHenry counties. [Nominations] can come from colleagues, administrators, parents, and even from students – all but from the individual himself or herself. And those nominations can be found on our website. When the nominations come in, a committee will do investigations of the principals under particular criteria.
First and foremost will be the support of teacher excellence. Second would be how a person works within the school's community and how much community engagement there is to help further the mission of the school. Third part would be the kind of effort a leader does to champion their students. This would allow us to, in secret, gather a group consensus from the committee to select one person and keep it a surprise, unlike the Golden Apple Awards. Probably, our structure will be not to inform the principal he or she has been nominated, that's how we want to keep it.
Interview has been condensed and edited.
Rhyan Kronzer contributed to this report.