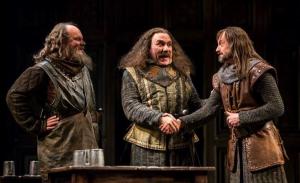 Reading Henry V, I was mildly annoyed by the humorous scenes among the foot soldiers in Henry's army. The moments felt like too-light diversions from the heavy machinations of the King and his Court.
Seeing Henry V in a new production at Chicago Shakespeare, I found myself laughing out loud at the same scenes. These petty, dopey soldiers sometimes act like The Three Stooges stuck in a Monty Python sketch.
They spar, make obscene gestures, and throw around insults like "egregious dog," "counterfeit rascal" and "damned and luxurious mountain goat." My favorite: "Avaunt, you cullions!" (Move along, you testicles!)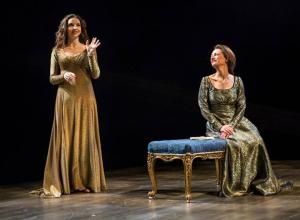 This group of "swashers" (blowhards) is brought to life by the superbly skilled Chicago actors Greg Vinkler (playing the aptly named Pistol), Brett Tuomi (as Bardolph), and Larry Neumann Jr (Nym). Their comic reign is aided and abetted by director Christopher Luscombe.
There's also Fluellen, the lovable windbag from Wales, and the bawdy Mistress Quickly. Add to that a French Princess and her hilarious attempts to learn English and you have a charming and funny parallel play to go along with a violent and rousing drama of war and conquest.
Leave it to Shakespeare and his talented interpreters to make it all work. Henry V is at Chicago Shakespeare Theater through June 15.