The Chicago Bears select Virginia Tech cornerback Kyle Fuller in a mild shocker. Is this good news or bad? Ann Kreiter and James "Big Cat" Williams break down the Bears draft—and assess the rest of the team's offseason moves in a special edition of "Big Cat and the Bears."
The Chicago Bears get defensive in the NFL Draft. James "Big Cat" Williams will give his take on the new, young talent coming to Halas Hall. 
---
Another addition to the Bears comes from the small college town of DeKalb, Ill. Former Northern Illinois quarterback Jordan Lynch was a finalist for this year's Heisman Trophy. Although he finished third in the Heisman race and went undrafted, Lynch signed with the Bears on May 11, to play running back. Read an interview with Lynch below.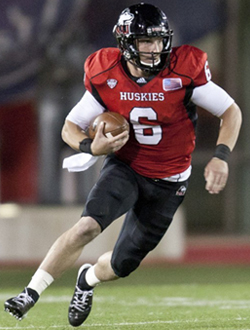 Q: How did it feel getting signed to the Bears?
It was exciting. I was thrilled. It was amazing finding out because it was a dream come true. It's going to be a tremendous opportunity and I'm looking forward to it.
Q: This is an exciting announcement. What are you looking forward to the most?
I'm looking forward to getting out there with the guys. I can't wait to meet and play with my new teammates. Also, I want to get with the coach as soon as possible.
Q: You had a very impressive run as quarterback at Northern Illinois University. How has that experience prepared you for this moment?
Well, they run a great program at NIU. We trained hard and played great competition. They're really first class people. The way we play and go at it really prepared me for the NFL.
Q: Are there any moments in your college football career that stood out?
I don't think there are any specific moments. I think I always felt I was ready. As the years went on the more I grew with the team. They really prepared me well throughout it all.
Q: How did your family and friends react to the news?
They were excited. For me to stay here in Chicago and to have a chance to play for the Bears after just graduating from NIU is a big deal. So they're really happy for me.
Q: What's next for you?
Well, I start camp Thursday for the Bears. But right now I think I'm going to stay home and spend time with my family. I plan on working out too so I can be ready for Thursday. 
Interview has been condensed and edited.
--Interview by Taurean Small