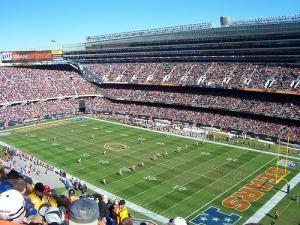 Gear up, Bears fans. 
Single-game tickets are available for purchase online or by phone starting 11:00 am Thursday, July 16. 
Preseason tickets range in cost from $81-$405, with no limit on the number purchased. Regular season tickets are priced between $106-$430 and are limited to four per customer, per game. Ticket prices include amusement taxes.
The Bears are scheduled to face the Miami Dolphins in the first preseason game of the year at 7:00 pm Aug. 13; they take on the Cleveland Browns at 7:00 pm Sept. 3.
The first home game of the regular season is set for 12:00 pm Sept 13, when the Bears battle the Green Bay Packers.
Tickets are available for purchase by calling (800) 745-3000 or (800) 943-4327; or online at ticketmaster.com.