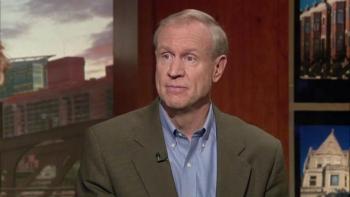 Republican candidate for governor Bruce Rauner says he favors a different set of retirement benefits for state police and fire personnel. Rauner, speaking after last Friday's event with Gov. Pat Quinn and a state teachers union, outlined more of his pension proposal.
"We have to have a pension system in government that is more like what the voters have," he said.
Rauner says he would support freezing pensions for current workers and moving them into a separate 401K-style system for future work. But, he says police and fire officials would be exempt from that.
"The two groups, I believe, that should have a special deal that's much better and different than voters, are police and firefighters because they risk their lives, and that's a different arrangement," Rauner said.
Rauner did not offer specifics on what a pension deal for police and firefighters would look like. But his stance could be beneficial to gaining the endorsement and support of state police and fire unions. Though public employee unions are upset with Quinn's pension plan, most would likely support Quinn over Rauner in the fall.
Union officials have expressed opposition to Rauner's plan to move workers into a defined contributions plan, and have taken exception to his criticism of 'corrupt union bosses.' Public employees are currently in court with the state over the constitutionality of the state pension reform measure that was signed by Quinn in December.
The Rauner campaign did not return several follow-up inquiries on the matter. Messages for the Illinois Fraternal Order of Police were also not returned.
A spokesperson for AFSCME, the state's largest public employee union, ripped into Rauner's comments, saying Rauner was trying to 'cover his tracks' for taking a hard line on public unions during the primary.
"Of course police officers and firefighters put their lives on the line to serve the public. Of course they earn their pay and deserve their pension," said AFSCME spokesperson Anders Lindall. "But I'd like Bruce Rauner to tell a correctional officer in an overcrowded state prison how he thinks their service is worthless. I'd like Rauner to explain to a parole agent that their sacrifice isn't as worthy. I'd like Rauner to tell a child protection worker knocking on the door of an abusive household that they don't put themselves in harm's way. He should explain to EMTs and highway maintainers and employees at Chester Mental Health Center, where the state commits individuals found not guilty of crimes by reason of insanity, that their public service isn't sufficiently dangerous in Bruce Rauner's mind to merit the pension they earned. He's not going to do that, because this billionaire is so out of touch he probably doesn't know these men and women exist."