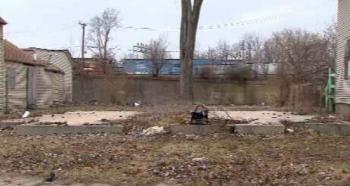 Cook County is currently home to 55,000 vacant properties with 33,000 of them in Chicago alone. Many may be the result of foreclosures -- a process that, in Illinois, takes a whopping 800 days from filing to get the property back on the market. The average is about 565 days, making ours one of the five longest foreclosure times in the country.
As the process drags on, many of those homes sit unoccupied in what are known as zombie properties. The Woodstock Institute took a look at those homes which have been foreclosed on, but three years later, those same homes were still in the foreclosure process.
On a gray morning in the Auburn-Gresham neighborhood, Jerome Baker's door seems to be revolving. As a housing counselor for Neighborhood Housing Services, where the motto is to help residents buy, fix or keep, Baker says he's helping more residents with keeping than buying.
"It's horrible. Houses are being foreclosed on at an alarming rate, and the homes that are being foreclosed on, there's nothing being done to keep them," he said.
Baker grew up in this neighborhood, and says today he sees more abandoned homes than ever.
"You can see the blight and how it's not good," he said.
Housing Action Illinois Executive Director Sharon Legenza talks about the issue of zombie properties in the wake of the housing crisis and what her nonprofit organization is doing to help neighborhoods rebound in the following web extra video: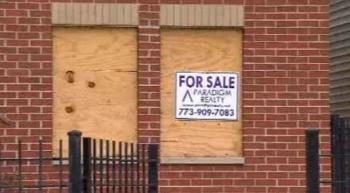 Some of those homes are called zombie properties: those for which the bank has filed foreclosure, but never completed it. Some occupants remain in the home as squatters, but they often leave the home, as it sits in limbo.
"If it's vacant, that's worse, because bad things happen to vacant properties. They have spillover effects that cause problems in the neighborhood. They can be vandalized, stripped of copper and appliances. They can become havens for criminal activity," said Spencer Cowan, vice president at the Woodstock Institute. "But, even if it's occupied, the homeowner doesn't have the resources to pay the mortgage. If you can't pay your mortgage, you probably can't afford to fix the leaking roof or the front steps, so the building is going to deteriorate."
Cowan looked into so-called zombie properties -- specifically those that either weren't sold at auction or for which the process wasn't complete within three years of foreclosure filing.
"What we found was that somewhere around 8.5 to 9 percent of foreclosure filings, cases that were started, didn't get resolved at all," said Cowan. "They were not hugely different numbers from the lowest income census tracts to the highest. But the reason they're concentrated in the lower income tracts is because there were so many more filed."
Researchers estimate that based on their sample, foreclosures between 2008 and 2010 led to over 11,700 zombie properties in Cook County, including over 5,800 in Chicago.
The report predicts that if this trend continues, by the end of 2015, there will be an additional 7,200 zombie properties in the county, with 3,200 of those being in Chicago.
View a map of Zombie Properties in Chicago: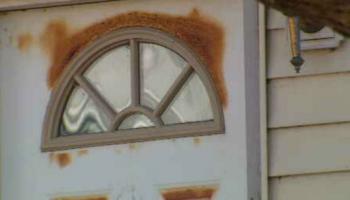 Cowan explains why banks walk away after filing foreclosure.
"As they get into it, as they start to incur the costs, they look at it and go, 'Gee, the market really turned down, houses lost a lot of value, we really don't want this property. It's not in a growing part of the city, it's not going to be easy to get rid of, to market, to sell, so do we really want it?'" he said.
Thus, the concentration of zombies in lower-income communities; homes in higher-income communities are easier to turn over and sell.
"That's the kind of blight that has spillover effects and affects neighboring property values and affects the desirability of the neighborhood," said Cowan.
Both the city and the county have building ordinances, requiring owners, including banks, to maintain their vacant properties.
But, Cowan explains massive mortgage servicers Freddie Mac and Fannie Mae were exempt from that rule in federal court.
"So, most of the properties that Fannie and Freddie hold, which is most of the properties in Chicago, aren't required to abide by the ordinance," he said.
Cowan also thinks banks should notify the city when foreclosing on a property it doesn't want.
"Or notify the community, notify the city or the county. 'We decided we're not going to go forward with it. We're going to release the liens,'" he said. "And, at least the property then has a clear owner, who may not have a lot of resources, but has an interest in making sure that property is maintained. If it just sits in the foreclosure process, neither side has that interest."
Which is where an agency like the Cook County Land Bank Authority comes in.
"We have the tools I think to intercede in that, to talk to the banks, talk to the servicers of those mortgages that are in foreclosure and make sure they know they have an avenue of getting those properties out of that process into and transferred to perhaps an entity like the Land Bank which can hold them tax-free, which can help them with liens and other things that tie up the title, and get them out of where they don't want to be," said Peter Friedman, Chairman of Land Transactions Committee at Cook County Land Bank Authority.
The Land Bank's goal would be to return zombie properties to a productive use, which may or may not be its former use.
"It can be something else. It can be a house, it could be a community center. It can be for properties that, if it doesn't make economic sense or because of the community plan, it doesn't need to be there, it may become a park, it may become a garden or a farm," said Friedman.
On behalf of the Illinois Mortgage Bankers' Association (IMBA), IMBA Board Member Brett Natarelli responds to the Woodstock Institute's report in the following statement:

IMBA shares some of the concerns of the Report's authors concerning abandoned properties, but we think the Report misstates the scope and cause of the problem. The Report finds that "[a]lmost 60 percent of foreclosures filed between 2008 and 2010 in Cook County were not sold at a foreclosure auction within the period between 2009 and 2012" (Report at 2). The Report assumes that such cases are the result of servicer "walk aways," i.e., foreclosure suits the servicer has chosen to abandon because "it determines that the cost of proceeding with the foreclosure and securing and maintaining the property until it can be sold to a third party will exceed its expected returns from fees and the sale of the property." Report at 3.

But if it even happens at all it is quite unusual for a mortgage servicer to abandon a foreclosure for this reason. And the Report confirms as much. On Table 3, the Report finds a 15.22% chance that a "servicer will walk away" in the lowest income neighborhoods, but the rate is practically the same - 13.95% - in the highest income neighborhoods (where average income exceeds $121,690). Thus, what the Report calls "walk-aways" are not driven by property value. The reason the rates are roughly the same is that these are not "walk-aways" at all. Servicers cancel or postpone foreclosure sales as a matter of routine at the borrower's request in order to allow borrowers to pursue loss mitigation options such as loan modifications, short sales, and refinancing. Federal and state governments support these efforts. See 735 ILCS 5/15-1508(d-5). In some circumstances, federal mortgage servicing regulations require servicers to postpone a foreclosure sale to allow for loss mitigation attempts with the borrowers. This is the overwhelming reason that foreclosures that are filed do not reach sale. The Report notes that 39.2% of the unresolved foreclosures resulted in non-foreclosure resolutions like loan modifications, and another 37.0% resulted in short sales or non-foreclosure deed transfers. Report at 7, Table 2.

Indeed, in support of its statement that pending foreclosures are due to servicer abandonment, the Report cites to an analysis from Reinvestment Partners. The Reinvestment Partners analysis looked at 412 long-pending files in Durham County, North Carolina, and concluded that only 18 "qualified as bank walk-aways." The Reinvestment Partners analysis does not explain why the 18 qualified as "walk-aways" and I suspect that even the 18 number may be an overstatement.

A case-by-case analysis of Cook County foreclosures would likely show that by far the most common reason that long-pending foreclosures have not reached sale is attempts by servicers and borrowers to negotiate a non-foreclosure resolution such as a loan modification or short sale.

If the homeowner has chosen to abandon the property, the best way to return the property to productive economic use is for the foreclosure to resolve faster so that a willing buyer can quickly acquire title. Cook County attempted to fast-track foreclosures on abandoned properties but the procedures have encountered unexpected procedural and practical difficulties. Enhancements to the fast-track foreclosure procedure for abandoned properties would help. The Report's policy recommendations instead only speak to maintenance and security of the property pursuant to Chicago's vacant building codes. But cutting the grass and boarding up windows is a temporary measure that does not restore the property to productive economic use. Only an interested owner can do that.
One of Baker's customers, 67-year-old Jacqueline Marsh, feared her home could've become a zombie property when she fell behind on her mortgage last year.
"It would have stood until some real estate picked it up and rehabbed it," said Marsh. "As a matter of fact, two doors over, there were two houses on this block that had been vacant for a while. At least a year and a half."
But with help from Baker and a bit of patience, Marsh now has a mortgage she can afford.
"I'm very thankful because we have to have somewhere to stay," she said. "My son loves this home and I love the home. There's so much at stake if you had to foreclose and move on."
So that she and her son, who's legally blind, can stay in the home she bought 26 years ago.
The Woodstock report makes other recommendations, like cracking down with code enforcement on homes that have fallen into disrepair, and giving the Land Bank a dedicated funding source.
Just in the last few weeks, Illinois Attorney General Lisa Madigan has awarded the Land Bank a $4 million grant, which Friedman says is a very good start.
~ Map created by Kristen Thometz