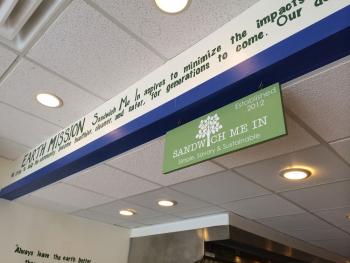 You may not consider this next time you sit down at your favorite restaurant, but the food industry is one of the country's top producers of trash. The Environmental Protection Agency says the U.S. generated more than 36 million tons of food waste alone in 2011: 96 percent of which went into landfills.
But a local restaurant is among the few leading the way in reducing those massive amounts of trash. It just might have the recipe for going green.
At Sandwich Me In in Lakeview, you might find a lot of leftovers.
"All the red chairs are actually from a KFC about 20 years ago. Pretty cool," said Justin Vrany, chef and owner of the restaurant.
Vrany says many of the restaurant's furnishings are reused or recycled from the medical business in this space previously.
"We reused everything. Like the tile on this counter was the backsplash for the reception stand," he said.
But the food on the counter is as fresh as it comes.
"We make everything in-house from scratch, sourcing from local farms; that's a 200-mile radius from the restaurant," said Vrany.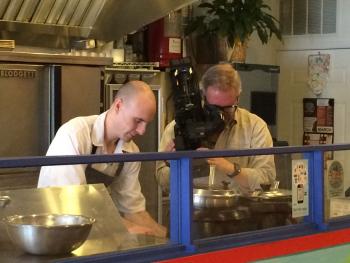 Vrany's whole motto at Sandwich Me In is simple, savory and sustainable. He applies that mantra to every part of his restaurant.
"We don't have all that extra packaging and containers, and the stuff we do get shipped here, it comes in reusable containers, cardboard boxes. And we give those right back to the farmers," said Vrany. "We make our mayonnaise in-house for example. Typically, you'd have to buy a big container of mayonnaise with a lid you can't recycle. The mayonnaise container has to be recycled, that's still using energy being used. Whereas, we just make it from scratch, so we get farm fresh eggs and we use local oil."
No plastic here: sandwiches and salads are served on parchment paper, which can be composted along with any food scraps that are left over from meal preparation or whatever diners don't eat.
But, that doesn't happen often.
"I got the fried egg BLT, that's like my go-to. It's really good, crispy bacon, and I got the soup as well," said customer Brendan Ginty.
One of Vrany's specialties is the chicken.
"We get Gunthorp Farms chickens which is right in LaGrange, Indiana. We get whole chickens, we take off the skin, we cook the skin off. The skin we use in our Cobb salad instead of using bacon. To me, it's like the bacon of the chicken," said Vrany. "Then, we cut the breasts off and we use that for our chicken breast sandwich. And then we smoke the entire rest of the bird and we use that for our pulled chicken. Then, after that, we take the leftover bones and make a stock out of it, and that's what we use to make our soup. We make chicken rice soup probably about every two weeks."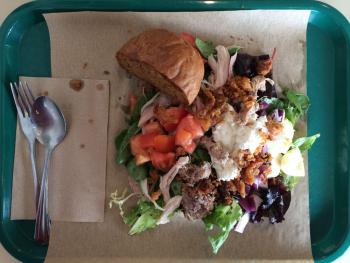 Anything that can't be composted is recycled.
"All of the oil we use in the restaurant is recycled, and a company comes and picks it up once a month, and we actually get paid for it," said Vrany. "They use that in biodiesel engines. And the city requires that we have a dumpster in the back of the restaurant but this dumpster will never, ever get filled."
In two years of business, that dumpster has only collected eight gallons of waste, and even that was picked up recently by a local artist to be made into something else to admire, making this a zero-waste restaurant.
Brendan and Jennifer Ginty live in the neighborhood. They are fans of Vrany's eco-conscious recipes.
"We think that's pretty cool. There's a lot of things we like about this place, the whole, all-natural, locally sustained. The green is just this added component that makes it even better for us to eat here," said Jennifer.
But Brendan admits he's in it for the food.
"It's kind of a side benefit for me because I like the sandwiches, so that just kind of goes along with it," said Brendan. "I'm just glad we found this place because I do kind of wear it out. I come here probably twice a week and hope I don't get sick of it, but they've got plenty of sandwiches."
And that too is Vrany's message -- that he can be green and successful -- at the same time.
"The idea of the restaurant, the ultimate goal is to have other restaurants follow us, and to have people enjoy the food and learn a bit more about what they can do to compost, to maybe recycle better, how to be healthier with their diet. And that's the ultimate goal of the restaurant," said Vrany.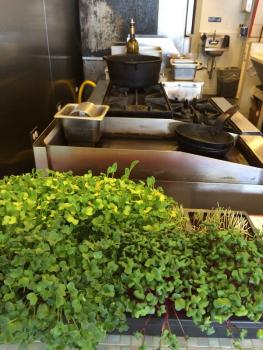 As part of a pilot program, Justin Vrany's restaurant has achieved one of the Green Seal certification program's highest standards for sustainability. Only 11 other Chicago restaurants have achieved that level called GS-55, meaning those restaurants are meeting some of the most rigorous criteria for reducing their environmental impact.
"They are a leading factor of changing restaurants into this ideal that we have, to slow down the trash, buy local food, slow down the carbon footprint and move the restaurant industry a couple steps back from being the largest waste producer in the world," said Vrany.
In all of his experience at a variety of restaurants, from fine dining to casual and quick service, Vrany knows the massive amounts of waste the food industry can produce.
"I would say the quick service restaurants blow away with the amount of waste there is. Not when cooking it, but the massive meals that people don't eat," said Vrany. "All of the product that goes into making this food is all packaged, and I would say half is recycled, the other half is probably not."
"It's a huge waste, restaurant industry is second largest industry in world leading on waste. And it's not that far behind the construction industry. It's all plastic. That stuff will never go anywhere, just sits in the ground."
He's hoping his restaurant guides fellow foodies to reduce their waste, too.
Bill Levenson is one of his more regular patrons.
"I've been here I'd say well over 180 times," he said.
And he says Sandwich Me In has opened his eyes to a new way of eating and dining.
"I guess I perceive restaurants being a certain way and this sort of changed my thinking about how a business could be run," said Levenson. "There's a proliferation of processed foods in our diet. Fast food is hurting us. This is clearly an alternative to that."
Which is just what Vrany is dishing out.
Vrany says he actually receives payment from the company that buys his oil to be recycled. He buys wind, solar and biodiesel energy to power the restaurant.
And a local company in Englewood converts the compost into dirt that can be sold to construction sites and farms.
---
See one of Vrany's recipes below and view a slideshow of photos from his restaurant.
Black Bean and Brown Rice Burger

2 Cups of Brown Rice

4 Cups of Water

2 Tablespoons Oil

Combine, bring to boil, simmer for 30 minutes with lid

Let cool and puree

 

1/8 Cup of Herb oil (add to rice while puree)

 

2 Cups of Roasted Red Peppers

Sear over flame and place in covered container for ten minutes, peel skin and remove guts, set aside

 

1 Cup of Red Onion

2 Cups of Carrot

6 cloves of Garlic

Dice and Sauté

Mince in food processor with red peppers

 

1 QT of Black beans, soaked overnight

1 Cup of Bay leaves

1 Teaspoon of Peppercorns

Place in metal sachet, simmer in 2 QT water until soft

 

1 Teaspoon of Celery seed

2 Teaspoons of Basil flakes

3 Teaspoons of Salt

½ Teaspoon of Cayenne Pepper

¼ Cup of Bread crumbs

Blend half of the black bean mixture, set aside other half of black beans

 

Combine all ingredients above and fold together

To make: scoop 3oz in hot cast iron skillet with tablespoon of oil. Form patty, sear both sides, place on roll with whole grain mustard, lettuce and tomato.
~ Yasmin Rammohan contributed to this report.