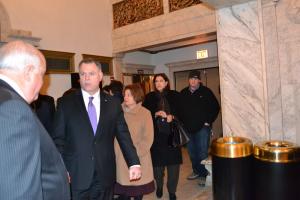 On Tuesday evening, a crowd of community leaders, Chicago residents and media outlets gathered at the Bank of America Theatre for the premiere of the first episode of CNN's Chicagoland. 
The new CNN docu-series, debuting Thursday, follows a myriad of Chicago "characters" as they navigate the city's largest events of last year.
From the unprecedented Chicago Public School consolidation, to the gang violence that made national headlines, to the battle royale between Mayor Rahm Emanuel and Chicago Teachers Union President Karen Lewis, the series re-tells these events through the eyes of citizens spread throughout the city.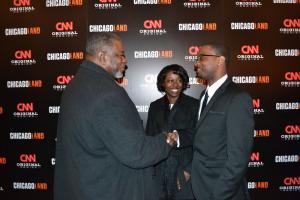 The first episode introduces you to major players in Chicago, like Mayor Emanuel and Chicago Police Supt. Garry McCarthy. You also meet Fenger High School principal Elizabeth Dozier as she works with her students amidst the gang violence surrounding the school campus.
The series also introduces residents of the Roseland and South Side communities who live with the effects of gun violence. The close-up and emotional accounts of living in a gang-riddled neighborhood is a point of view much needed and rarely seen.
"They even tried to beat on my little sister, and she's only in the 1st grade," says a girl with tears rolling down her cheeks when asked about her walk to school.
The series details the major problems Chicago faces, but also celebrates the city's achievements, from the Chicago Blackhawks' Stanley Cup win, to the Lollapalooza music festival, and the number of attractions tourists from around the world flock to every year. 
As the episodes jump from one neighborhood to the next, viewers begin to understand the many facets of Chicago and how different the struggle is depending on where you live.
We discuss the making of the series with producer Yoav Attias and Pulitzer prize-winning Chicago journalist and co-writer, co-producer and series narrator, Mark Konkol.