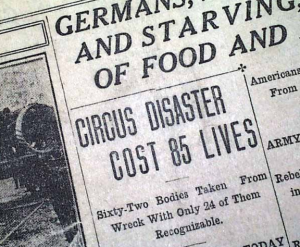 This Train Wreck isn't really a disaster – quite the opposite – but it's about a disaster: the tragedy that occurred in 1918 near Hammond, Indiana when an empty U.S. Army troop train crashed into a fully-loaded circus train stopped on the tracks.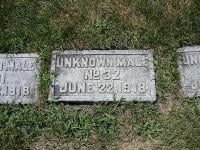 86 circus people died. Many are buried anonymously in the Showman's Rest section of Forest Park's Woodlawn Cemetery – about a mile from the theater that is currently commemorating their lives in a show called Roustabout: The Great Circus Train Wreck!
The production is a unique collaboration between a small suburban school and members of Chicago's experimental theater scene. Concordia University Chicago (located in River Forest) recently endeavored to bring risk-taking Chicago theater to the school program, Artists of Concordia Theatre. It's a gutsy move for a small, Lutheran liberal arts university, but it has already reaped dividends.
In this case, they've brought in a wacky and wonderful play written by Jay Torrance, who also penned Burning Bluebeard, one of the best shows I saw last year (and a show that shares themes and sensibilities with this show).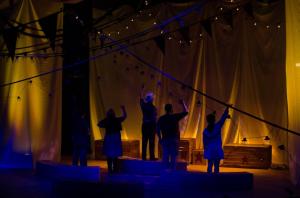 And they hired director Halena Kays, a fearless veteran of many Chicago theater productions, to work with the cast of six. Her actors are young and raw, but they're a game group, up for the task of digging absurdity in a respectful way from the ashes of historical tragedy. They have energy to spare and earned some mighty laughs.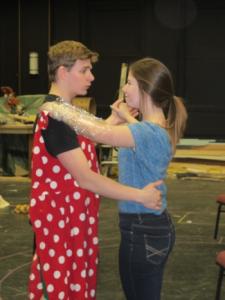 One standout is Matt Bender, a freshman who performs the role of The Ringleader with genuine gusto. Look for him in future Playbills, or see him even sooner.
Time is running out on this ambitious staging complete with bearded lady, bawdy puppets, and – of course -- a cameo by Kenny Rogers. Roustabout: The Great Circus Train Wreck! plays just one more weekend at the Madison Street Theater located at 1010 West Madison in Oak Park. Tickets are a steal at $15, $10 for students.