For men and women who have served time in jail or prison, finding employment afterward can be difficult. But the Vocational Rehabilitation Impact Center (VRIC) in the Cook County Sheriff's Department aims to help those detainees earn skills while serving sentences -- and also serving the community.
Even on a snowy day in south suburban Ford Heights, one work crew is focused on the task of demolishing an abandoned home.
"I'm working on knocking this building down, this house, to help the community," said 24-year old Travis Franklin.
Franklin is among the workers who are serving sentences in the Cook County Sheriff's VRIC, formerly known as boot camp. Franklin is originally from Memphis, but admits to getting in trouble when he came to see family in Chicago.
"I had caught a delivery. I was on the block with my cousin, and they were selling drugs and stuff, and they grabbed me," he said.
Cook County Sheriff Tom Dart started the program in late 2013. The men are all nonviolent offenders who have been sentenced to the VRIC, instead of prison or jail. The program is designed to use their labor to improve depressed communities.
"This is something that's been a burning passion of mine for about five years now, and I'm embarrassed to say it's taken us this long to get it together, but it was tricky to go through some of the hoops," said Dart. "I've often been upset about the fact that there are certain communities, because of the resources, that individuals in that community are destined to live next to burnt out, abandoned buildings, sometimes forever, and that's wrong."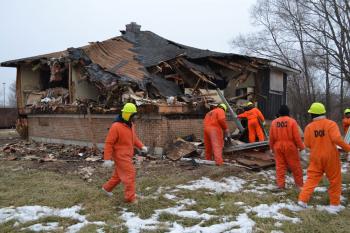 Before starting demolition, the sheriff's office searches for owners and taxes paid on the property.
In one case, the Cook County tax assessor valued a house at $34,000 in 2012. But the county hasn't received a tax payment on it since 2003. It shares the street with other abandoned homes and what used to be a housing project, which is now also boarded up.
Under a Ford Heights ordinance, any home deemed a structural or moral danger to the community can be torn down, but Ford Heights doesn't have the budget for it.
"A lot of these houses we're talking about have been in these conditions for decades," said Dart. "And you think about the people who've had to open their window or their door and look at that every single day."
An empty lot used to be the site of another abandoned home in Ford Heights; it was the first one that the sheriff's department's work crew demolished. Dart says he hopes to demolish 100 homes in communities throughout Cook County over the next year, by adding additional work crews.
"Here they're learning something about demolition and deconstruction, two different things that are very closely related," said Willie Winters, Director for the Neighborhood Restoration Initiative for the Cook County Sheriff's Office. "Demolition is just taking a building like this, that's an eyesore and dangerous to the community, and a burden to everyone who lives nearby, and just simply taking it down. Deconstruction is looking at materials that can be salvageable at a building like this."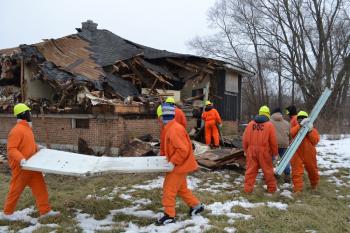 The sheriff's mission is two-fold: not only to rid the neighborhood of eyesores, but also to teach the detainees a useful skill in hopes they'll find work later.
"My point all along was let's teach people skills that regardless of their criminal background, is something that the people in that industry aren't going to care that much about because you aren't handling money, you're not around customers and the like," said Dart. "And pick an industry that you know unfortunately has a great need. Well, this is something with both a great need, and no need to interact with customers or handle money. You need to have a skill that involves manual labor, but it is a skill nonetheless."
In this case, they're given safety training on using the equipment, but they're  also learning to salvage materials that can be recycled.
It's all done under the supervision of sheriff's officers.
"They're enthusiastic. I think they enjoy this better than sitting around," said Winters. "For the ones that take it to heart, they know that they're helping out these communities, and for some of them, it makes them feel pretty good."
Travis Franklin hopes that when his sentence is done, he can return to his home in the south, and get back to work.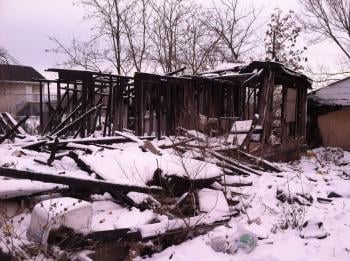 "I'd be working if I wasn't here. I'd have a good job. I just lost my job down there," he said. "I love it. I love doing this type of work. This is great work."
Where he can earn a living instead of serving time.
All of the detainees in this eight-month phase of the VRIC program are on electronic monitoring.
The sheriff's office says it's already heard from other Cook County towns, like Dolton, Robbins and Chicago Heights, that are also interested in having some abandoned homes there demolished.