We discuss the Chicago City Council's ordinance banning e-cigarettes with John Nothdurft, Director of Government Relations at The Heartland Institute, Respiratory Health Association president Joel Africk, and Northwestern Memorial Hospital's Tobacco Treatment Specialist Carol Southard. Read an interview with a local doctor about the risks and benefits of e-cigarettes, and watch a panel of aldermen discuss the ban and view graphics on e-cigarette sales in the U.S.
---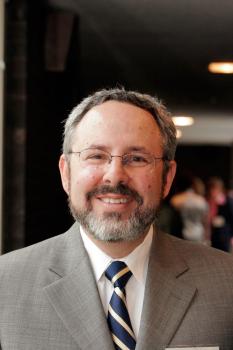 Read an interview with Africk below.
Do you agree with City Council's decision to regulate e-cigarettes?
Yes.
What is the main concern for the Respiratory Health Association (RHA) regarding unregulated e-cigarettes?
There are two main concerns. First is youth access. Effective January 1, you can't sell or buy e-cigarettes if you are under 18 in Illinois. The problem with the state law is that it doesn't come with an enforcement mechanism. Usually when you have sale restrictions based on age, it comes with more rules. Now, Chicago can say they need to be kept behind the counter so you can monitor sales. E-cigarettes can be sold by tobacco retailers in Chicago, but if someone isn't a tobacco retailer and they want to sell them, they have to apply for a license. That means it is a part of the city's regulation and compliance can be monitored. That's how you enforce underage sales of alcohol and tobacco, with compliance checks. We didn't have it before for e-cigarettes and now we will.
And secondly, we worked very hard for the smoke-free Chicago ordinance so workplaces would be free of powerful chemicals. The e-cigarette vapor does contain some of the same chemicals that we already fought to keep out of the workplace in the smoke-free Chicago effort.
I want to be clear: if there is an adult who wants to use e-cigarettes to quit smoking, or just enjoys using them, we don't want to mess with that. Our focus is on access for kids and clean indoor air.
Do you agree that e-cigarettes should be banned from locations where regular cigarettes are banned?
Treating them the same as regular cigarettes makes sense to us.
Is there enough data to suggest that e-cigarettes are harmful to public health?
Well, from a public health standpoint, we know that e-cigarettes are dangerous because they are re-normalizing smoking. We absolutely know that. Very often in most cases, they also contain nicotine which is a harmful and addictive chemical. Kids should not be developing an addiction to nicotine. There is a growing body of evidence, even though e-cigarettes are relatively new, some say that what is on the label is not always accurate.
There was a recent study done that says in a number of cases, nicotine was more, less or as stated. There is a variable in accuracy in the packaging because it is unregulated. In terms of secondhand smoke and vapor inhalation, that is an area in which the jury is not back on. There is more research to be done. Quantifying the danger from the vapor and the harm to the user needs to be determined but we are still in the early stages.
Do e-cigarettes help smokers quit?
They are not tested as a means to help smokers quit. If we compare them to nicotine gum, or lozenges or a patch, they couldn't get approved until they produce a bunch of evidence including data, success rates, etc. You're looking for what the evidence shows from use. In the case of e-cigarettes, unlike patches, gum and lozenges, the companies for e-cigarettes do not want to submit that evidence or make any claims as an effective use to quit smoking. They don't want to come under FDA regulation. If you ask me, if someone really wants to quit smoking, they should try an evidence-based method first.
That goes for cigarettes, acupuncture, or standing on your head in the dark. There is a much better track record for those methods with evidence.
Can e-cigarettes provide the inverse function: getting youth addicted to nicotine who then switch to cigarettes?
I think there is evidence for both on this. What we know is that the use of e-cigarettes by kids has been growing and has doubled in the last year or so for high school students; 1 out of 10 students have used e-cigarettes. There is also some research that shows those who try e-cigarettes as a quitting therapy end up smoking both e-cigarettes and regular cigarettes. It is more likely that they are using both products.
I have heard sincere users saying it helped them cut down on their smoking. I want them to succeed in their efforts. I don't doubt anecdotally that it has helped. I'm concerned they are not trying the most evidence-based methods. We don't know how the success rates compare to nicotine gum or group classes where you work on the psychology of addiction. We aren't trying to ban e-cigarettes completely, but we want to keep them out of the hands of kids and out of the workplace.
Interview has been condensed and edited.