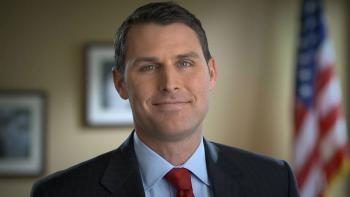 Doug Truax is comfortable in the role of underdog. He's been beating the odds over his eventful 43 year life — and giving back along the way.
Raised in a small town in New Mexico close to the Mexican border, he worked in the fields alongside hard working mothers and fathers and learned about the American dream. That dream became more personal when he set his sights on the United States Military Academy at West Point and succeeded in getting appointed as the boy from a far southwestern outpost of America.
He learned about duty, honor and country at West Point and went on to graduate from U.S. Army Ranger School, the toughest leadership course in the U.S. military. He began a successful private sector career as a rising manager who aspired once again for the American dream — starting his own business. Again, Doug beat the odds by launching his business just before a recession devastated the economy…and succeeded. Today, he is co-owner and managing partner of Oak Brook-based Veritas Risk Services, LLC, a strategic risk consulting firm that empowers employers in controlling their healthcare costs, benefits, retirement plans and business risk.
Doug helps other underdogs, too. He is immediate past chairman of the board of Almost Home Kids, a community based charity serving children who are medically fragile and their families.
His greatest joy is his family, including his lovely wife Nicole, their three bright, active teenagers and their dog Lincoln. They love Downers Grove and the neighborhood and house they've called home the past 12 years.
Doug feels blessed at his good fortune and wonderful family but his sense of duty tugs when it comes to Illinois. He cannot sit by as career politicians like Dick Durbin make the American dream more difficult to achieve for all Illinoisans. He believes it's time to put a new generation of leaders in place who will reverse Illinois' slide and give it a leader befitting the greatness of its people.
Source: Doug Truax's website
Follow Doug Truax: Facebook; Twitter
View a timeline of Truax's career:
~Timeline created by Hope Holmberg and Taurean Small