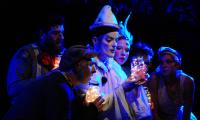 Once or twice a year, a show is so breathtaking that it must be seen a second time. And you really have to see it in the theater -- once it closes, it's gone. DVDs or on-demand cannot capture the live experience of sitting in the dark, bonding with the strangers onstage you seem to know so well.
That ephemeral nature of theater – and of art and life itself – is at the heart of a stunning and funny revival of a show called Burning Bluebeard currently at Theater Wit on Belmont Avenue.
Two years ago, I avoided this play, in which clowns relate the true story of the Iroquois Theater tragedy. At that Chicago theater in 1903, 600 people were killed when a stage curtain caught fire. It didn't seem like an appropriate topic for a theatrical romp.
Well, this is a romp, but it's so much more. Magical, deeply pleasurable, and absurd, it's filled with anachronisms, affection, acrobatics, and mordant humor. It's a rare and genuine blend of laughter and tears, and it must be experienced to be believed.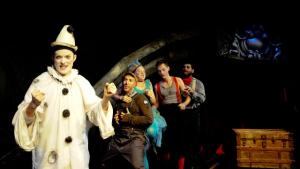 The clowns here form a ghostly group, endearing and mischievous, and the cast is a marvel. Led by the masterfully droll Dean Evans, the troupe includes the exuberant Molly Plunk, the soulful Ryan Walters, the lovable Anthony Courser, and the haunting Leah Urzendowski Courser (you try writing a review of this show without an excess of adjectives).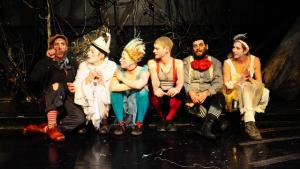 Kudos also to Jay Torrence for writing a gutsy and wonderful play, and to director Halena Kays for vividly realizing its potential. They are aided by outstanding production design and lighting by Maggie Fullilove-Nugent. It's a show that keeps revealing itself – a magic act with many tricks and treats up its sleeve.
Though it was staged two years ago, this is the first production by a newly incorporated group of familiar Chicago theater folks known in this incarnation as The Ruffians. I'm already looking forward to The Ruffians' next production – and my next visit to Burning Bluebeard.